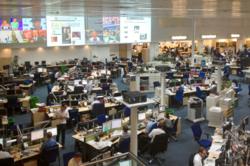 Springville, Utah (PRWEB) June 03, 2013
Digital Technology International (DTI) has signed a long-term agreement with Telegraph Media Group (TMG), publishers of The Daily Telegraph, The Sunday Telegraph, The Telegraphs weekly world edition, Telegraph.co.uk, plus other titles to migrate their news and advertising content management to DTI Cloud. TMG will be the single largest European tenant in DTI Cloud, which is the companys award-winning cloud computing platform.
The Telegraph Media Group produces a wide range of award-winning content on a number of channels. TMG requires cost-effective digital technology that delivers production efficiencies and workflows that allows them to be flexible, scalable and mobile.
"Telegraph Media Group has successfully evolved into a multi-product operation that continues to deliver the highest quality journalism," said Richard Halstead, chief technology officer, TMG. "Our commitment to DTI Cloud and the associated publishing model is key to TMG remaining competitive in the ever changing media landscape."
"As our largest European customer, the Telegraph Media Groups decision is a huge endorsement of our cloud publishing platform," said Dan Paulus, president, Digital Technology International. "The Telegraph will have the digital infrastructure and flexibility to deliver content in new ways and to pursue new digital revenue opportunities. They will also increase their innovation advantage, in the most competitive news media market in the world, by always having the very latest version of DTI ContentPublisher and DTI Advertising software in DTI Cloud."
Allan Marshall, an independent global media consultant, who has worked closely with Halstead over the last 18 months in transforming TMGs technology process and structure, said that "Supporting servers and software is not the Groups core business. TMG chose DTI Cloud because they had a real Software as a Service (SaaS) solution and someday, all newspapers will operate this way. DTI provides true SaaS architecture and they have invested what was needed to offer this type of solution properly."
About Digital Technology International: DTI delivers digital audience engagement, digital revenue expansion and digital cost performance for the global news media industry. The company's innovative technology and professional services help media organizations engage audiences by delivering targeted news and advertising with Web, print, mobile, and social media. On-site or via DTI Cloud Digital Technology software helps more than 2,000 publishers around the world compete and win across all channels. The company is headquartered near Salt Lake City, with offices and data centers in strategic locations around the world. Digital Technology delivers Digital All Ways and may be found at: http://www.dtint.com
Find More Computer Press Releases