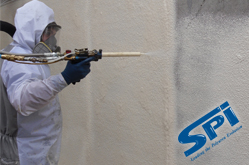 Lakewood, Washington State (PRWEB) May 01, 2013
After substantial R&D and successful field testing, Specialty Products, Inc. (SPI) has unveiled the innovative Synergy Series Aquaseal Hi-Rise X3 elastomeric bridging polyurea. This cutting edge technology provides a cost-effective, one-step solution for concrete waterproofing and resurfacing. Aquaseal Hi-Rise X3 forms a seamless, monolithic surface that seals and protects concrete, eliminating the time-consuming and costly process of applying a concrete primer, mortar filler or dry sacking. This provides a key benefit by reducing surface preparation time and material cost. Aquaseal Hi-Rise X3 can be utilized across a variety of industries, from the rehabilitation of water and wastewater infrastructure to the restoration of historic structures.
Aquaseal Hi-Rise X3 was recently applied to a wastewater digester in a Midwestern town that is updating its wastewater infrastructure. Sewage waste produces hydrogen sulfide gas that contributes to the rapid deterioration of concrete surfaces. To mitigate this challenge, city officials opted to find a coating solution that will protect and extend the structures service life, said Dan Helton, President of SPI. Sixty mils of Synergy Series Aquaseal Hi-RiseX3 was spray applied through the Synergy Series LPG proportioner as a base coat. Because Aquaseal Hi-RiseX3 bridges and seals surface imperfections to form a seamless membrane, the application crew saved a week of prep time, and in turn, this saved the city a weeks worth of associated labor costs, not to mention the savings in materials, explained Helton.
Not only can Aquaseal Hi-Rise X3 be used as a base coat, but it can also be used on its own to rehabilitate and waterproof aging concrete. Aquaseal Hi-Rise X3 was recently applied to the porous, uncompacted concrete basement of a historic home in Washington State. The concrete had numerous bug holes and surface imperfections. The unique combined technology of the LPG equipment and Synergy Series chemistries provided complete coverage in a one-step application, said Helton. Aquaseal Hi-Rise X3 can be applied through both traditional Graco