SourceHOV | Tax Applauds Texas Initiative to Reinstate the Research & Development Tax Credit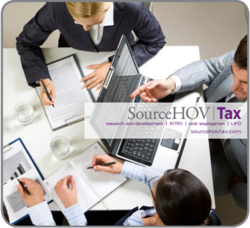 Ft. Worth, Texas (PRWEB) May 22, 2013
After several years without a Research & Development Tax Credit, on May 2, 2013, the House approved HB 800 introduced by Texas State Representative Jim Murphy. The bill authorizes $ 250 million in sales and franchise tax credits for companies pursuing qualified research & development in Texas. According to Texans for Innovation, this could bring $ 13 billion into the economy and add 97,000 new jobs.
Texas originally approved an R&D Tax Credit in 1999 that was set to sunset at the end of tax year 2009. However in 2005, the Supreme Court of Texas mandated that the Legislature reform the states public school finance system. The Governor appointed a former Comptroller of Public Accounts to lead the Texas Tax Reform Commission to develop a proposal to provide a stable finance mechanism for public schools in Texas.
The commission proposed a large overhaul of the franchise tax that included eliminating the tax credit for R&D expenses. The enactment of House Bill 3 in 2006 effectively eliminated a companys ability to qualify for research tax credits after December 31, 2007. While taxpayers were no longer able to earn R&D tax credits, they were still allowed to claim unused credits from prior years until December 31, 2027.
We are excited to see that Texas is re-evaluating the benefits of a research credit. By incentivizing businesses in the form of research credits they will be promoting innovation and adding more high level jobs to the recovering Texas economy, commented Deb Roth, CPA and Managing Director at SourceHOV | Tax. Many manufacturing, software, engineering and high-tech companies rely on these types of incentives to continue to grow their business.
Software companies throughout the state are looking forward to maintaining business in Texas and with this additional incentive they will have the opportunity to continue to grow and stay competitive, mentioned Michael Warady, CFP and National Director of R&D Software Consulting at SourceHOV | Tax. In speaking with software companies outside the state that are considering a move to Texas, this incentive provides additional motivation to relocate.
The bill is now in the hands of the Texas Senate. We are waiting confirmation that the bill passed the Senate in a vote on May 21, 2013.
SourceHOV |Tax is a national leader in Research & Development tax credit consulting services. For more than 30 years, SourceHOV | Tax has helped companies properly identify and sustain tax incentive strategies for its clients, including R&D tax credits, cost segregation studies, 179D tax deductions and LIFO inventory accounting. For more information, please call 800-806-7626 or view our white paper, R&D Tax Incentives:

Take Credit Where Credit is Due.

_______________________________________________________________________________

1 http://www.texastribune.org/2013/05/01/tax-credit-aims-to-bring-revenue-to-texas/.

2 Legislative Budge Board January 22, 2013, Ursula Parks
Find More Tech Press Releases