Revolutionary Treatment with MedX at The Back Clinic Helps a Former British Waterski Champion Get Back on the Water After Suffering a Serious Back Injury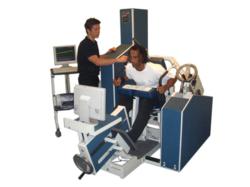 London, UK (PRWEB UK) 23 May 2013
In March 1992 former British Waterski Champion, Brett Hodgkins, suffered a very serious back injury as he hit the six-foot ramp on his last jump at the Bridgewater Ski Club, Australia. It was his final chance to qualify for the US Pro Tour. He said "It felt like someone had plunged a dagger into my lower back. It was the worst pain I had ever felt and I was unable to complete the run and jump."
He later discovered he had two slipped discs in his lower back and had damaged most of the surrounding ligaments. Discs act as shock absorbers between the vertebrae. When a disk slips (disc prolapse) and pushes on your spinal nerves the pain is excruciating. With the pain he was experiencing he thought he would never compete again. After resting for one season without any success he received pain relieving injections which also had no effect and finally was admitted for surgery. He said "I thought I had reached the end of the line as far as my skiing career went."
In January 1998 he travelled to Florida for specialised back treatment on a piece of equipment called MedX which had been in the USA for several years but not been available in the UK yet. MedX is a revolutionary breakthrough for the general public and top-class athletes alike who is suffering from back pain or want to prevent back injuries. It is an ideal treatment for water skiers and wake boarders as around 75% of them suffer with back problems as result of their sport.
The MedX Lumbar Extension machine is unique as it has been specially designed to isolate and strengthen the lower back muscles. The result of over 20 years of research. By strengthening these muscles, the spine and discs become supported which in turn leads to a significant decrease or total elimination of back pain. It is a simple concept and also highly effective. He worked on MedX in Florida for a couple of months and then returned to England to complete his treatment at The Back Clinic which was then based at 148 Harley Street, London. It was the first clinic who brought MedX to the UK earlier that year and was already seeing great results with its patients.
The patient is seated in the MedX chair and the lower half of the body is immobilised using specially designed straps and blocks. This leaves the upper body free to bend and extend. The patient then performs a safe isometric strength test to determine their lower back strength (or lack of it) and range of motion. This information is printed out on a computer graph. The results are often surprising. The physiotherapists at The Back Clinic are used to seeing top-class athletes who think they are fit but who are amazed to see that their graph shows a back that is far weaker than it should be for their sex, age and weight matched norms.
Brett started out being able to push only 75lbs on MedX, but gradually by the end of the 12 week program, was pushing 400lbs. Afterwards he said "My lower back felt rock solid and really strong. More importantly the excruciating back pain I had been feeling had disappeared completely." Advising his peers he said that he had no doubt that MedX is a great form of injury prevention and a way to improve skiing performance.
He also felt that since doing MedX at The Back Clinic he had gained greater balance control and more aggressive line loading which resulted in him being placed fifth in the Slalom event at that years British National Championships at Kirtons Farm. Brett believes that if it wasn't for the help he received from Mike Fulton in America and the specialist physiotherapy team at The Back Clinic he would not have been able to ski again.
About us:

We are passionate about seeing people set free from the debilitating effects of lower back pain. The Back Clinic is the only clinic in England that offers treatment in a clinical environment by Consultant Musculoskeletal Physiotherapists consisting of spinal mobilisations and manipulations, combined with core stability training and spinal rehabilitation on our MedX machines.
The Back Clinic is at 107 Harley Street, London, W1G 6AL. For more information call Isabella on 0207486 7711 or check out their website at http://www.thebackclinic.co.uk
Find More Computer Press Releases