QuinStreet Enterprise Research Shows Private Cloud Growth Currently Eclipsing Hybrid Clouds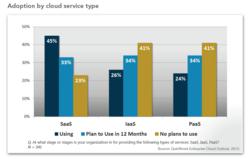 Foster CIty, CA (PRWEB) June 17, 2013
eWEEK.com, one of the most trusted technology news and reviews websites, published and analyzed results from a survey of IT professionals and executives who are involved in the cloud computing purchase process. The survey was conducted by Palmer Research and QuinStreet Enterprise, the publisher of well-known IT media brands including eWEEK, IT Business Edge, Datamation and CIO Insight. Survey results show that 36 percent of respondents are now running a private cloud and an additional 29 percent plan on using a private cloud in the future.
Cloud computing in all its variations is one of the two most important trends in the global IT industry, asserted Chris Preimesberger, editor of Features and Analysis at eWEEK.com. The other significant trend is Big Data utilization. In the article, we provide insight into how IT managers use cloud services now and their plans to use more of them in the future.
The eWEEK.com article discusses study results and details the importance of emerging trends. The article also touches on different cloud types (SaaS, IaaS and PaaS), brand awareness among cloud vendors, important criteria for early- and late-stages of the cloud computing purchase process and links to the full report for more detail.
The survey was conducted online by Palmer Research using an email invitation sent to IT professionals and executives in the QuinStreet Enterprise North American database. All respondents were involved in the cloud computing purchasing process. A total of 341 qualified professionals completed the survey between April 2 and 3, 2013. The margin of error is +/- 5.3% at 95 percent confidence level.
For more details about the research studys findings and to download a full copy of the executive brief, visit eWEEK.com and join Tweetchat conversations every second Wednesday of the month at 11 a.m. PT using #eWeekchat, follow @eWEEKNews on Twitter and Google+.
About eWeek.com
eWEEK.com, property of QuinStreet Enterprise, is an online resource in the IT industry, delivering technology news, analysis and reviews of new products. eWEEK.com is owned and operated by QuinStreet, Inc. (NASDAQ: QNST), one of the largest Internet marketing and media companies in the world. QuinStreet is committed to providing consumers and businesses with the information they need to research, find and select the products, services and brands that best meet their needs. The company is a leader in ethical marketing practices. For more information, please visit QuinStreet.com.
Find More Computer Press Releases