Professional Virus, Spyware, and Adware Checkups Now Available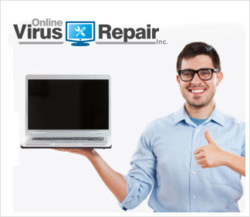 San Luis Obispo, CA (PRWEB) June 18, 2013
With billions of viruses, spyware, and other types of malware floating around the internet, it can be tricky task keeping our computers protected from the bad stuff. The cyber-security experts at OnlineVirusRepair.com have added a new virus check service in hopes of simplifying that task for us. Dan Steiner, President and Virus Expert of OnlineVirusRepair.com says, New viruses can sneak by even the most effective anti-virus software via security vulnerabilities in common software, so were doing our part to protect people before disaster strikes.
The new service allows users to connect with a US-Based technician and have their computer completely checked out for security vulnerabilities, performance issues, and other general software problems. Unlike traditional computer service, the checkup only takes a few moments and is done completely remote, without the user having to unplug anything or spend money up front.
New malware, such as the ZeroAccess virus, among other hard-drive affecting viruses can be tricky to remove, which make them hard to detect. The new service aims to help detect these types of malware before disaster strikes. Steiner continues to say Its extremely common for people to connect with us with a very minor issue, only to discover a serious and potentially dangerous virus running in the background. Undetected computer viruses can cause a host of problems, such as identity fraud, data theft, and personal information hijacking.
Computer users who would like to connect with a technician for a computer virus checkup or for general virus help are advised to head to OnlineVirusRepair.com.
About OnlineVirusRepair.com
OnlineVirusRepair.com is an American based company specializing in computer cleanups for individual computer users and businesses. The company was founded in 2012 and is headquartered in San Luis Obispo, CA. Customers needing virus help can call or chat with OnlineVirusRepair.com technicians to have viruses/malware/spyware removed remotely without the hassle of taking their computer "into the shop." Technicians are able to remotely remove threats even without the client being at their computer – often in 60 minutes or less.
Related Computer Press Releases