Product Launch Platform Daily Grommet Works with Graphic Designer to Feature New Product, Whooz? Identification Labels for Technology Devices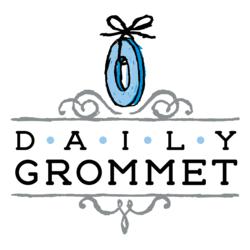 Lexington, MA (PRWEB) April 04, 2013
Daily Grommet, an online shopping site and product launch platform for innovative and undiscovered products, is working with a graphic designer to feature new Whooz? identification labels for technology devices. Daily Grommet is excited to feature this innovative, festive problem solver as it will give broad appeal to both a young and old demographic.
After Sativa Turner and a roommate had trouble telling apart their identical chargers, she thought about labeling hers with tape or permanent marker. The graphic designer in her couldnt bear to spoil the look with random markings, so she created a more aesthetic — and much more fun — identification system. Sativas Whooz stickers are removable vinyl labels for chargers, USB cables and earbuds. Fun designs include Rico, Cindy, Charlene and Dexter (the quirky characters Sativa created to jazz up our peripherals) or go for solid color identifiers. Each pack contains 4 sheets of labels, and each sheet has enough labels to cover one charger, USB cable, and set of earbuds.
Its not uncommon for a single household to have multiple iPhones, iPads and iPods — which means multiple white power cords plugged into every available outlet. Shared charging stations at airports, libraries and coffee shops are a sea of identical cords, too. When youre seeing iOS accessories here, there and everywhere, Whooz makes yours different.
About Daily Grommet

Daily Grommet is a highly curated online marketplace and launch platform for products of great utility, style or invention that havent hit the big-time yet. Daily Grommet seeks out these unique products, carefully tests them, and produces a video review of each one telling the story behind its creation. Daily Grommet is rooted in the philosophy of Citizen Commerce whereby regular people form the commerce experience by suggesting products that reflect their values and interests. Citizen Commerce turns the typical top down retailer approach sideways, encourages global product innovation from small producers, and satisfies the consumers need to know the stories behind and origins of favorite products. The company was also just named one of the hottest sites of 2013 by Internet Retailer. For more information, visit http://www.DailyGrommet.com.