NXP Launches Industrys First SD 3.0 Level Shifter Supporting SDR50 Mode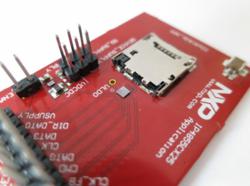 Eindhoven, Netherlands and Hamburg, Germany (PRWEB) May 30, 2013
NXP Semiconductors N.V. (NASDAQ: NXPI) today announced the I P4855CX25 a unique voltage level shifter for SD 3.0-compliant memory cards with integrated ESD/EMI protection. The device is designed to operate at clock frequencies of up to 100 MHz and data rates of up to 50 MHz. The IP4855CX25 is the industrys first SD 3.0 card level shifter supporting the ultra-high-speed SDR50 mode, helping consumers to safely experience the faster data rates offered by SD 3.0 memory card solutions.
With 8 kV of integrated ESD protection according to IEC6100-4-2 (Level 4), as well as an integrated EMI filter, the IP4855CX25 offers a robust solution for the communication interface between the system chip and the memory card. It is an optimized plug-and-play solution for system chips with input and output voltage level limitations. As consumers demand both greater data storage and faster data rates from memory cards, OEMs are starting to make their devices compatible with SD 3.0 compliant cards. Building on NXPs proven track record in level shifting, ESD protection and interface solutions, the IP4855CX25 is the industrys first SD 3.0 solution supporting SDR50 the most challenging high-speed data mode.
The IP4855CX25 is housed in a very small wafer-level chip-scale package, which saves PCB space. The design architecture minimizes the external component count to zero. This simplifies designs and reduces the total costs for consumer electronic devices such as mobile phones, tablets, cameras, set-top boxes and game pads.
The IP4855CX25 helps consumers enjoy the improved speeds and higher data rates associated with SD 3.0, while ensuring the safe and reliable operation of their devices, said Malte Struck, product marketing manager, NXP Semiconductors. As the industrys first SD 3.0 level shifter to support the ultra-high speed SDR50 mode, the IP4855CX25 builds on our unparalleled expertise in level shifting, ESD protection and interface solutions, and takes us into new and exciting areas. It also shows our dedication to improving consumer experience through continuous innovation.
Volume production of the IP4855CX25 is ramping up with immediate effect.
Features