New Quality Campaign At Lane End Conference Centre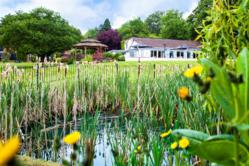 Lane End, Buckinghamshire (PRWEB) May 16, 2013
Lane End Conference Centre has developed an internal quality management system to measure performance especially customer satisfaction.
The purpose-built conference centre which has been nominated for national awards again this year launched the system to drive up standards as part of a continuous improvement culture.
Lane End named its quality management system Conference Fresh. Now the team is embarking on a new campaign to remind customers what they can expect as part of their meeting room hire experience.
Sales and Marketing Manager Heni Fourie said: The objective of the Conference Fresh quality system is to achieve the highest possible level of customer satisfaction by exceeding their expectations every time.
The Conference Fresh quality management system engages our teams and promotes better teamwork.
We are all effectively part of a relay race. For example, the quality of information shared between the sales team and their operational colleagues could make or break a customers conference room hire experience, he added.
Conference Fresh includes an internal customer charter and measurable quality standards.
The customer charter was developed by Lane Ends management team with the contribution of colleagues throughout the residential conference venue to ensure buy-in at all levels of the organisation.
Key Performance Indicators (KPIs) were set for each department to form the basis for the main quality measurement standard.
The Conference Fresh QMS was launched with the ultimate aim of maintaining accreditation from an industry-specific organisation. Lane End selected BDRC Continentals Gold Standard Accreditation for customer satisfaction as the main objective.
Lane End Conference Centre is one of only 32 UK venues (and the only one of its kind in Buckinghamshire) to have received the Gold Standard Accreditation for customer satisfaction for the year 2012.
Around 400 hotels and conference centres participated. The results were derived from more than 27,500 pieces of feedback.
Lane End Conference Centre received 71 pieces of feedback and achieved an overall satisfaction score of 100 per cent for the last three months (94.8 per cent for the 12 months to December 2012).
The main fields of the BDRC Continentals VenueVerdict feedback survey were used to put a measurable standard against each departmental KPI at Lane End.
Feedback is collected from three sources: