MTV Movie Award 2013 Nominees and Hollywood Celebrities Come Out to Support Steps4Paws Fashion Rescues Campaign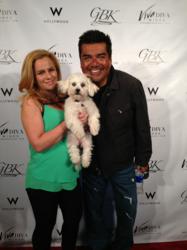 (PRWEB) April 14, 2013
Los Angeles Based clothing company S4P, Steps4Paws, presented their new collection of Fashion Rescues graphic tees to some of the biggest stars from hit TV and Movies, as well as many top music artists this weekend for an MTV Movie Awards event by GBK in Hollywood, California. Bringing forward some of the biggest names to support animal rescue.
Some of the many celebrities that stopped by the event include George Lopez,

MTV Movie Award Nominees Ester Dean, Hana Mae Lee, and Alexis Knapp from Pitch Perfect, Artist Clyde Carson, Jason Ritter, Sugar Ray Leonard, Jenni Farley JWoww and Roger Mathews from Jersey Shore, Reality TV star Aubrey ODay, Jared Gilman from Moonrise Kingdom, Jillian Rose Reed from MTVs Awkward, Dot Marie Jones from Glee, and Ray Liotta from Goodfellas.
Celebrity guests stepped up to support Steps4Paws Fashion Rescues movement by signing up as ambassadors to help spread the word on dog adoption and rescue. As well as sharing their experiences with their own dogs for the Steps4Paws My Dog Rescued Me Campaign. In addition each celebrity pitched in by signing their own pets name on awareness tees from the Loyal and True collection that honors and commemorates a favorite pet.
Steps4Paws Fashion Rescues collection will launch at Fred Segal Melrose on May 11, 2013 for a Mothers Day Weekend event to celebrate dogs. The trendy tops for men and women will raise money for local animal rescues including Best Friends NKLA, in addition to an onsite mobile Pet Adoption by Best Friends NKLA.

What can be better than shopping in the trendiest store in LA, looking stylish in S4P tees and saving the lives of dogs in need?
Everyones favorite at the event was Steps4Paws Darling rescue "Coco Chanel," who stole the show and won the hearts of every celebrity.
Steps4Paws is working hard to spread awareness about the benefits of adopting dogs and how even non-dog owners can aid in the fight against homeless pets. Raising funds through fashion, donating to both local and national charities to help feed, shelter, vaccinate, spay/neuter and provide special and medical attention for dogs in need. Our movement will make a difference to so many dogs in need across the country. said Brand Founder Vered Nisim.
Find More Graphic Press Releases