Morton Subotnicks Pitch Painter iPad App Introduces Enhanced User Interface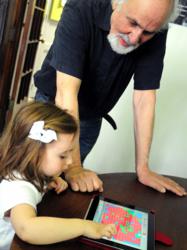 New York, NY (PRWEB) April 03, 2013
Morton Subotnick, the author of the highly acclaimed educational CD ROM series Making Music, announced updates to Pitch Painter, his award-winning musical painting application for the iPad designed for children 3 to 5 years old.
The updated Pitch Painter app features an improved user interface design and button layout. The new design makes it even more intuitive for kids to create music. Similar to finger painting, they can use their hands to create, erase, edit and save or load musical creations. Without needing instructions, children can instantly experience a variety of musical instrumental sounds and authentic scale tunings from four regions of the world.
Based on user feedback, the looping setting is now accessible from the initial menu within the app. Kids can easily hear their musical creations played back exactly as they drew them, or as a normal piece of written music, from left to right, or upside down, backwards and even scrub them like a DJ.
In addition, the new Pitch Painter version is optimized for iOS6 devices and features retina graphics.
Pitch Painter offers a new, intuitive way for children to create and learn about music. Using finger painting as a metaphor, they can turn the iPad app into an infinite canvas for their musical explorations, explained Morton Subotnick, the creator of Pitch Painter. The educational approach and design principle is to let children experience musical creativity at an early age before embarking on a formal musical education.
Last month Morton Subotnicks Pitch Painter received a 2013 ON for Learning Award from Common Sense Media, the national nonprofit dedicated to helping parents and teachers manage the media and technology in kids' lives.
Pitch Painter is currently listed in Apple's iTunes store under New and Noteworthy apps for the iPad Education category and can be downloaded here.
For more information, please watch a video with Morton Subotnick, see pictures on how children are using it and visit the Pitch Painter website.
About Morton Subotnick

Morton Subotnick is one of the pioneers of electronic music and multi-media performance. He is an innovator in works involving instruments and interactive computer music systems.
His work Silver Apples of the Moon has become a modern classic, and in 2010 was entered into the National Registry of Recorded works at the Library of Congress, which selected only 300 recordings in total for this esteemed archive.
Subotnick is also a pioneer in offering creative musical tools to young children. He has authored the educational CD-ROM series Making Music which has been widely used by parents and educators to let children experiment with the fundamentals of pitch, rhythm, sounds and styles of music. Pitch Painter is his latest endeavor in utilizing mobile technology to ignite the musical creativity of children.
Subotnick tours extensively throughout the U.S. and Europe as a lecturer and composer/performer.
Category: Education

Price: