Military Ground Robot Mobile Platform Systems of Engagement: Market Shares, Strategies, and Forecasts, Worldwide, 2013 to 2019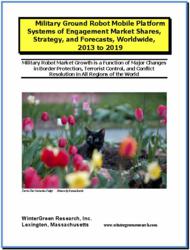 Rockville, MD (PRWEB) May 29, 2013
Military Ground Robot Mobile Platform Systems of Engagement: Market Shares, Strategies, and Forecasts, Worldwide, 2013 to 2019 – Worldwide markets are poised to achieve significant growth as platforms of engagement leverage mobile device capability worldwide. Even as the US presence in Iraq and Afghanistan winds down, automated process implemented as mobile platform systems of engagement are being used to fight terrorists and protect human life. These robots are a new core technology in which all governments must invest.
Military ground robot market growth comes from the device marketing experts inventing a new role as technology poised to be effective at the forefront of fighting terrorism. Markets at $ 4.5 billion in 2013 will reach $ 12.0 billion by 2019. Growth is based on the adoption of automated process by military organizations worldwide. This automated process implemented as a combination of software for innovation and robotic platforms is not the traditional military system.
In the last decade, the U.S. military poured money into unmanned ground systems to help protect troops against improvised explosive devices. There is the issue that the Defense Department needs to repurpose all those robots once the war in Afghanistan comes to a close. The wider market for military ground robots will develop as a mechanism to fight terrorism in response to the bombings in Boston and elsewhere. Bombing of civilians is a very serious matter and needs to be addressed with mobile platforms that prevent terrorist acts.
While the Armys committed to unmanned ground systems, appears to be slowing, this commitment is anticipated to heat up again quickly. The investment priorities are anticipated to change as the Defense Department realizes that investments in ground robots are needed to fight terrorism everywhere.
Military Robot Mobile Platform Systems of Engagement Market Shares, Strategies, and Forecasts, Worldwide, 2013-2019 – Table of Contents:
Military Ground Robot Systems of Engagement Executive Summary
Military Ground Robots Market Shares and Market Forecasts

Defense Industry Is Entering A New Era

Military Ground Robot Market Driving Forces

Military Ground Robots Market Shares

QinetQ TALON

Allen Vanguard Armadillo Micro UGV

Military Ground Robot Market Forecasts

1. MILITARY ROBOTS MARKET DESCRIPTION AND MARKET DYNAMICS

1.1 Robots Delivering Offensive and Defensive Capabilities to Combat Teams

1.1.1 Military Robots

1.1.2 Army Agile Process

1.1.3 Robots Used in War

1.2 US Army Modernization 2012

1.2.1 Military Robot Autonomy or Control

1.2.2 M3 is a DARPA Robotics Program Agile methods Rapidly Deliver Business Process And Application Change

1.3 Military Robot Scope

1.3.1 Military Robot Applications

1.4 Army's G8 Futures office

1.4.1 Delivering Capabilities to the Army's Brigade Combat Teams

1.4.2 Transition Between The Current Market And Where The Market Is Going

1.4.3 Different Sizes of UGVs

1.5 Types of Military Robots

1.5.1 Explosive Observation Robot and Ordnance Disposal

1.5.2 QinetiQ North America Talon