McGuire Movers Shares New Moving Advice as Tech Industry Lifts the Real Estate Market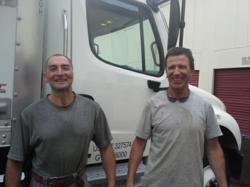 San Francisco, CA (PRWEB) May 11, 2013
Thanks to the tech industry boom in the San Francisco Bay Area and Silicon Valley, the real estate market is experiencing a surge, spurring increased home sales in the area. This uptick in home sales will, in turn, drive more moves, a trend that moving companies, such as McGuire Movers, has already noted in recent months.
More home purchases mean more moving and storage activity for both home buyers and sellers. To help guide a seamless move, the experts at McGuire Movers explain the proper timeline for moving and provide the following tips.
The moving specialists at McGuire Movers recommend that as soon as home sellers put their property on the market, they should begin purchasing packing supplies. These packing supplies should include different-sized boxes, tape, labels, and padding. To help home movers determine how many boxes they should purchase, McGuire Movers has provided a free moving tool powered by online real estate database Zillow on their website. This tool gives an estimate of how many boxes people will need based on factors such as number of rooms and size of the house.
Next, every room in the house should be de-cluttered and cleaned. Decide what to keep, pack those items, and properly label the boxes. Mark any boxes with fragile items to reduce the chance of damage. Any unwanted items should be thrown away, donated to a charity, or sold in a garage sale.
If a moving company, such as McGuire Movers, is contracted, items in dressers, desks, and closets need not be removed. Leave the clothes you want to keep hanging in the closets so the movers can easily transfer them from the hangers directly into wardrobe boxes. For furniture such as dressers and desks, movers will wrap them with furniture blankets and move them with the contents inside. In this way, people can save time in packing and unpacking boxes and in the cost of buying unnecessary packing supplies.
With the tech industry in the San Francisco Bay Area fueling a rise in home sales and moves, tips like these can help buyers and sellers easily transition and settle into their new homes. To get more moving tips, contact the experts at McGuire Movers at (415)307-2002. McGuire Movers is an established moving company that can move both locally in the Bay Area and longer distances. Their movers are known for their friendly, fast service and take pride in understanding their customers moving needs.
About McGuire Movers

With a reputation as one of the most efficient San Francisco Bay Area moving companies, McGuire Movers offers complete and customized residential and office moving services, including packing, unpacking, moving boxes and supplies, and more.
They have the right experience and the proper equipment to make sure your move goes as smoothly and as easily as possible. They are full service residential movers, furniture movers and office movers dedicated to providing complete customer satisfaction, experience, professional expertise and great service for residential or office relocations, whether you are moving within the San Francisco Bay Area or beyond. For more information about McGuire Movers, visit http://www.mcguiremovers.com/ or call (415)307-2002.