Marketing Firm AIMG's New Animated Video Promotes Small Business Solutions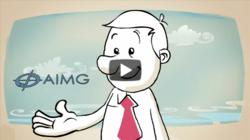 Charlotte, North Carolina (PRWEB) May 23, 2013
The Small Business Solutions department of web development and marketing firm AIMG recently launched an animated video to reach out to small business clients and invite them to learn about the company and its services.
Having worked with many small business clients over the past twenty odd years, said Joe DeMicco, founder and CEO of AIMG, I can honestly say that the majority are overwhelmed by the flood of marketing and business development options out there. With new technologies and platforms popping up so fast, it is hard for small businesses to even know what to do first let alone how to build and execute a solid marketing plan designed to achieve specific goals one that can be accurately tracked and analyzed for results, including return on investment.
Keeping on top of the latest tools and trends, AIMG offers clients services to develop and execute a comprehensive plan that frees them to continue to focus on running the day to day of their business. Among AIMGs many Small Business Solutions are search engine and conversion optimization, affordable online marketing programs, managed pay-per-click, cost saving custom, branded content management system website design, ecommerce, lead tracking, web tracking and analysis, and the companys very popular local marketing programs.
AIMGs recently released Small Business Solutions video can be viewed at http://www.aimg.com/Small-Business-Solutions/Small-Business-Marketing-Video/ or at the companys AIMGcom YouTube channel.
About AIMG
Established in 1994 as Accurate Imaging, Inc., AIMG is now a global Marketing, Web Development, Search Engine Optimization (SEO) and Small Business Development agency with offices in Clifton, New Jersey, Lake Success, New York, and Charlotte, North Carolina. Offering services in website design, custom web application development and integration, digital intelligence, copywriting, search engine and conversion optimization, as well as consulting for marketing and business development, AIMGs strategic business divisions include Enterprise Business Solutions, Small Business Solutions, Industrial Sector, and NOA (for Non-profits, Organizations and Associations). Visit http://www.aimg.com or call 1-704-321-1234.
About Joe DeMicco
Joe DeMicco is the founder and CEO of AIMG. He has been a web and marketing consultant for almost 20 years. He started his flagship company Accurate Imaging in 1994, which he re-branded as AIMG in 2009. Since then he has worked as a consultant and produced solutions for companies like BMW, Discovery Communications, Publicis, Thomas Register (ThomasNet), Net2Phone, Robotic Industries Association, Automated Imaging Association, E-Z-EM (now Bracco Imaging), and Excite Media Group. In 2007 he established Industrial Web Solutions, which specializes in online and offline solutions for industrial manufacturers. An alumnus of the Goldman Sachs 10,000 Small Businesses program, Joe continues to present online marketing webinars to past and current participants of the program. Joe is a recognized small business specialist and offers business development tips on his blog http://www.DeMicco.com.
Client Testimonials
Joe DeMicco and his team at AIMG are the best you will find in the field. Highly knowledgeable and extremely creative, they were not only able to understand my needs, my brand, and my goals, but create options I hadnt even considered to maximize my web marketing strategy. As a small business owner, I felt I had a whole IT department all of a sudden and customer service is amazing. You are assigned your own client relations representative that readily answered questions and helped navigate the process. I would highly recommend AIMG for any online needs you may have. They go above and beyond and the experience has been fantastic.