Liberty University School of Aeronautics named Innovator of the Year by Region 2000 Technology Council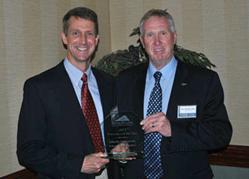 Lynchburg, VA (PRWEB) May 26, 2013
Virginias Region 2000 Technology Council presented the Liberty University School of Aeronautics its Innovator of the Year award Thursday during TechEDGE, the Lynchburg areas premier business and education conference.
We understand that the School of Aeronautics is attracting national attention and has achieved notoriety as a top aeronautics program, said Jonathan Whitt, executive director of the Region 2000 Technology Council. We think they have been innovative about how they have gone about growing the program.
Whitt highlighted the schools Unmanned Aerial Systems program (one of four in the country), the addition of several high-tech simulators, and its collaboration with other entities, including the Center for Advanced Engineering Research.
Retired U.S. Air Force Brig. Gen. Dave Young, dean of the School of Aeronautics, said receiving the award is humbling.
Region 2000 is blessed with an abundance of technology-oriented and innovative entities, and the School of Aeronautics is honored to have been selected for this award from amongst this august group, he said, complimenting the dedicated efforts of the schools staff.
The Region 2000 Technology Council is one of six distinct organizations making up Virginias Region 2000 Partnership, an organization that provides a centralized vision for regional development. The Technology Councils mission is to foster an environment that stimulates innovation and the growth of technology-focused organizations in our community.
The School of Aeronautics has grown from four students to more than 700 in the last 10 years and is currently the largest faith-based university aviation program in the country. The school offers a variety of online and residential programs, including a bachelors degree with concentrations in military aviation, missionary aviation, commercial/corporate aviation, and unmanned aerial systems (UAS) as well as flight attendant training. Its Aviation Maintenance Technician Program currently boasts a 100 percent graduation and job-placement rate.
About Liberty University

Liberty University, founded in 1971, is the largest private, nonprofit university in the nation, the largest university in Virginia, and the largest Christian university in the world. More than 100,000 students attend classes on its 6,800-acre residential campus and study in its thriving online education program.
Related Tech Press Releases