Keynote Speaker Micah Solomon, Customer Service Author, Expert, and Consultant, Introduces New "Keynote Plus" Option That Goes Beyond Standard Keynote Speaker Format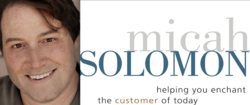 Seattle, WA (PRWEB) May 20, 2013
Heading into a busy conference and event season, Micah Solomon, one of today's leading business keynote speakers, authors, experts, and consultants on customer service and the customer experience, announces the addition to his keynote speech offerings of a new option: a "keynote plus" extended master class option for groups and events wanting more material and interaction than are included in the traditional keynote speaker format Solomon traditionally uses to kick off or bookend an event.
Micah Solomon offers keynote speaking and the new "keynote plus" extended master class in the U.S. and throughout the Americas, Europe, Asia, Africa, and Australia to the following industries, among others:
The Automotive Industry Banking & Financial Services Insurance Law Firms The Building Trades B2B & Manufacturing Healthcare Not-for-Profits Death Care Technology & IT Event Staging Hospitality: Hotels, Foodservice, Spas, and Resorts Retail Communications The Travel Industry Real Estate People with Disabilities
Solomons four powerful keynote speeches for businesses looking to grow and prosper with today's new breed of customers are now available in both the standard 60-minute keynote format, and in the extended (2-hour) Keynote Plus master class format.
In his High-Tech, High-Touch Customer Service" presentation, based on his latest bestseller by that name, Micah Solomon explains how to build customers for life in this age of social media, self-service, global competition, and endless distractions. This keynote Includes hands-on experience, best practices, and culture-building insight from Apple, Google, The Ritz-Carlton, Zappos, Four Seasons, and more.
In his "Marketing on a Digital Island" presentation, Solomon explains how to harvest the value of customer loyalty in a world where everyone knows everyone–online and off. Solomon explains why old-style marketing has lost much of its power, and instructs conference and company participants how to take advantage of the connectivity revolution and spark a great conversation about your brand in the digitally connected world.
In his classic presentation, "Exceptional Service, Exceptional Profit," Micah reveals the secrets of building a truly Five-Star Customer Service organization. This keynote includes the classic tenets delivered in a very practical manner of hospitality, service, and building a culture to support them based on the #1 bestselling book Micah wrote in collaboration with the creators of the modern-day Ritz-Carlton.
Finally, Solomon is now offering his unique "The Heart of Hospitality" conference presentation, covering the past, present and future of delivering extraordinary guest service in the hospitality industry, including hotels, resorts, restaurants and others in foodservice, and spas, as well as the travel industry.
Solomon also offers customized content designed to match the specific needs of an event or organization. And all presentation topics are also available in extended form, as a half-day, interactive workshop. Micah Solomon travels worldwide as well as throughout the United States to give business keynote speeches and workshops.
About Micah Solomon
Micah Solomon was recently named a new guru of customer service excellence by the Financial Post. His latest business bestseller, "High-Tech, High-Touch Customer Service," as well as his perennial bestseller, "Exceptional Service, Exceptional Profit" (a collaboration with the creators of the modern-day Ritz-Carlton), have won multiple awards. His expertise has been featured in Inc. Magazine, Bloomberg BusinessWeek, CNBC, Forbes, and the Harvard Business Review. He also helms the online College of the Customer.
As the lead customer service consultant and customer loyalty consultant at Four Aces, Inc., Micah Solomon specializes in helping companies, governmental agencies, and other other organizations build customer service initiatives and customer loyalty transformations that provide both immediate results in today's challenging business environment and significant sustainability over time.
As a keynote speaker, Micah Solomon's uniquely inspiring and humorous keynote speeches on customer service and customer loyalty convey his passion for everything that makes a business great, delivered in his famously relaxed and friendly 21st-century speaking style. Micah is legendary for engaging his audiences through his sincerity, his genuine passion for his clients success, and his unique visual presentation style – no stock photos here, just real life examples.
An entrepreneur and business leader himself, Micah used the techniques he speaks about to build his company from a one-man home operation into a market leader in the manufacturing and independent entertainment fielda story well known to readers of FastCompany and Seth Godins marketing bestseller Purple Cow. Micah was also an early investor in the Apple-related speech recognition technology behind Apples Siri.
For more information, please contact Four Aces Inc: info(at)micahsolomon(dot)com, 484-343-5881