Hope Channel Accelerates Television Content Delivery Globally with Unlimi-Tech Softwares FileCatalyst Platform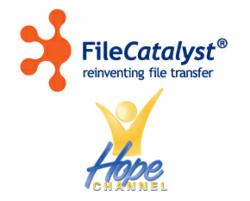 Ottawa, ON (PRWEB) May 07, 2013
Unlimi-Tech Software, the pioneer in accelerated file transfers and the creator of FileCatalyst, the worlds leading accelerated file transfer solution, is pleased to announce the selection of its software by Hope Channel, a global leader in Christian television programming and broadcast.
Founded in 2003, Hope Channel offers original, unique programs that foster wholistic Christian living. While it began broadcasting only in the United States, it is now a global network with 14 channels and reaches beyond North America to Africa, Asia, Europe, South America, and the islands of the Pacific.
To transfer its digital content to its entire global network reliably and at accelerated speeds, Hope Channel selected FileCatalyst Direct solution with the FileCatalyst Express client side option. Utilizing its unique acceleration technology, FileCatalyst Direct eliminated all slow file transfers regardless of transfer distance, file size and format, allowing Hope Channels media files to be sent reliably and at blazing speeds. Additionally, the FileCatalyst Express tool provided an efficient and simplified end user experience across all functions for sending and receiving files.
We used to FTP files from our east coast production center to our west coast satellite uplink facility for broadcast, said Justin Woods, Hope Channels Web Architect. However, even with high-speed connections on both ends, the coast-to-coast network latency meant that our transfer speeds were never higher than 2mbps. Transferring a single one-hour program would take nearly 24 hours! So, we ended up overnighting a lot of hard drives. With FileCatalyst, we instantly increased our transfer speed by a factor of more than 20 times, transferring files consistently at 45 mbps. A one hour program now transfers in 40 minutes. We couldnt be more pleased with FileCatalyst.
Hope Channel constantly moves their large format media assets on a global scale, making them great candidates for file transfer acceleration, says Dave McKeen, VP of Sales at Unlimi-Tech Software, Inc. The FileCatalyst platform ensures the quick and reliable movement of their content, eliminating any file transfer bottlenecks previously interrupting their workflows.
FileCatalyst will be demonstrating its accelerated file transfer technology at the Interop show in Las Vegas, taking place May 7 to 9, as well as hosting an open bar reception at booth 2159 during the show, on Wednesday, May 8th, beginning at 5:00 pm.
About Unlimi-Tech Software, Inc.

Located in Ottawa, Canada, Unlimi-Tech Software is the creator of FileCatalyst, the world's leading accelerated file transfer solution. Founded in 2000, the company has more than a thousand customers in media & entertainment, energy & mining, gaming and printing, including many Fortune 500 companies as well as military and government organizations. FileCatalyst is a software platform designed to accelerate and manage file transfers securely and reliably. FileCatalyst is immune to the effects that latency and packet loss have on traditional file transfer methods like FTP, HTTP or CIFS. Global organizations use FileCatalyst to solve issues related to file transfer, including content distribution, file sharing and offsite backups.
To learn more visit http://www.filecatalyst.com
About Hope Channel

Hope Channel is a Christian lifestyle television network that offers Gods good news for life today and for eternity. Its programs emphasize a balanced, wholistic lifestyle and focus on issues such as faith, health, family, finances and community. Using the latest technology, Hope Channel produces 95 percent of its content, making its programming unique, fresh, and relevant. What you see on Hope Channel you wont see anywhere else.
To learn more visit http://www.hopetv.org