Hertz Furniture Announces Teacher Appreciation Contest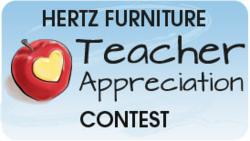 Mahwah, NJ (PRWEB) May 02, 2013
In honor of Teacher Appreciation Week (May 6-10), Hertz Furniture, the premier school and office furniture supplier, has announced its Teacher Appreciation Contest, which will run from May 1 to May 31, 2013. Students, teachers, principals, and parents are invited to recognize and give thanks to a special teacher by entering them in the contest.
Recognizing that teaching isn't easy, the Teacher Appreciation Contest is an opportunity to give back to teachers who are committed to student success and who demonstrate creativity, patience, and courage on a daily basis.
Up for grabs are two grand prizes. The winning teacher will receive a cutting-edge Nate Teachers Desk Station from Academia Furniture valued at over $ 1,000, while the person who nominated them will win an ergonomic Infuse Teacher's Chair, also from Academia. To enter the contest, participants should fill out the online form at HertzFurniture.com/contests.html and explain why the teacher they nominated deserves to win.
Hertz Furniture has long been partnering with schools, daycares, and other educational institutions to provide premium furniture at affordable prices. Offering the full gamut of classroom furniture, including student and teacher desks and chairs, wheelchair accessible furniture, computer tables, bookshelves, classroom partitions and more, Hertz Furniture also offers mobile science lab equipment, playground equipment, cafeteria furniture, stages and risers, and high-tech products such as digital whiteboards, mobile power stands, the Intellislate Wireless Tablet, and more.
"Teachers are undoubtedly the unsung and underappreciated heroes of the nation, giving of their time, patience, knowledge, and caring to our children day after day, month after month, the whole year through," says Hertz Furniture President Saul Wagner. "We are thrilled to shine a light on teachers via the Hertz Teacher Appreciation Contest, and look forward to learning more about the many worthy nominees."
About Hertz Furniture:

For over 45 years Hertz Furniture has supplied schools, religious institutions, businesses and government offices with top quality commercial furniture and superior customer service. Speedy Quotes, Quick Ship products, a wide selection of Eco-Friendly furniture, a free Project Planning and Design service and the best warranties in the industry are just a few of the ways that Hertz Furniture provides added value to its customers. For additional information on Hertz Furniture and its extensive line of products, please visit Hertz Furniture, speak to a furniture specialist at 888-802-6549, or send an email to jonathanyunger(at)hertzfurniture(dot)com.