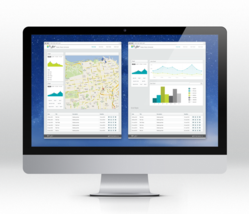 Saint Louis, Missouri (PRWEB) May 23, 2013
Fybr, the worlds leader in parking sensor management solutions, today announced the release of the latest edition of their parking management platform. A true breakthrough, the new platform finally realizes the vision of a fully integrated, end-to-end parking management information system. The new offering will allow customers to dramatically improve the performance of their parking management applications and address customer queries with greater speed significantly reducing parker frustration and increasing operational efficiency.
Thom Valley, Fybrs COO, describes it as an operating system for parking: it supports and coordinates the individual system components and activities. For each space monitored by a sensor, vehicle arrival and departure data is paired with payment information. That raw data then runs through our analytics processing to deliver actionable insights. Components from multiple vendors vehicle sensors, smart meters and handheld enforcement devices can all be seamlessly integrated into one complete parking operation with this system. Parking managers can then access a web-based portal from any internet-connected computer to see live enforcement operations as well as historical records for each and every parking space. Weve optimized every part of the environment to maximize efficiency and deliver information in near real-time, particularly in situations where there are large volumes of data.
The new solution will help parking organizations tackle issues such as large or complex queries regarding space utilization, turnover and compliance rates for individual spaces, districts or regions. It will also deliver valuable insights to the customer all faster than ever before.
Additional benefits include rapid deployment, reduced administration and management, ease of integration, flexibility, support for complex queries and scalability all at a low cost.
Fybrs new parking management platform is scheduled for availability in the second quarter of 2013.
Fybr is the worlds leader in parking sensor management solutions, delivering real-time data to actively connect and improve communities of all sizes.