Freightgate Announces New PDF to Excel Converter for Shipping Industry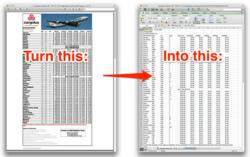 Huntington Beach, CA (PRWEB) May 23, 2013
Freightgate, a global provider of Best In Class Logistics Cloud Solutions, today announces a new cloud application for the shipping industry to Convert PDF files into editable Microsoft Excel documents. This application is offered 100% Free to shippers, logistics providers, and transportation carriers. The Freightgate PDF to Excel Converter is accessible from any computer or mobile device throughout the world.
Transport carriers and freight forwarders have traditionally distributed their freight rates, shipping quotes, and tariffs in PDF format. Agents spend tedious hours manually typing these rate sheets into Excel. Freightgate PDF to Excel Converter makes the conversion process quick and reliable without having to retype data.
Access the 100% free PDF to Excel Converter at webpage: http://freightgate.com/pdf2excel.html. Upload your PDF file. The Excel file conversion will be immediately emailed to you.
Freightgate PDF to Excel Converter features:

Intuitive Intelligence to detect the tables in your PDF files and automatically convert them into easy-to-edit Excel files no manual intervention required.
Easy Uploading directly from your desktop or mobile device.
Appearance Retention intelligently matching row/column spacing, and more.
Cloud-based converter offers conversions of exceptional quality in one easy step.
While we think this application is a great service to the industry until every stakeholder adopts our long term vision and quest for standardization and making information easily interchangeable, always remember, given a choice getting real spreadsheet or structured data should always be preferred. says Martin Hubert, CEO of Freightgate.
The Freightgate PDF to Excel Converter was designed specifically for the shipping industry. It is one of many logistics cloud applications available in Freightgate's Logistics Cloud Platform, known as the Freightgate Universe. The Freightgate Universe enables transportation professionals on all levels to collaborate with global vendors and logistics providers seamlessly on a single common transportation sourcing platform for informed decision-making across the entire network. It encompasses ISO9001:2008-certified end-to-end transportation management processes from procurement, rate management, optimization, execution and visibility, carbon footprint, through invoice audit & pay. The Freightgate Universe is comprised of adaptive easy-to-deploy modules to help companies leapfrog into the 21st century with minimal start-up cost. Freightgate is the only commercial EFM compliant platform enabling standardized web-services as promoted by the US-DOT and Transport-Canada.
To Partner with Freightgate, schedule a No-Obligation Demonstration of Freightgate Logistics Cloud Solutions. Please complete Demo Request Form at: http://www.freightgate.com/demo or Call Freightgate Sales at 714-799-2833.
About Freightgate

Based in Huntington Beach, California, the Freightgate team has been developing Internet solutions for the freight and logistics since 1994, such as its industry-leading Logistics Cloud Platform, offering Supply Chain Collaboration & Visibility; TMS, Global Tender Bid Management; Least Cost Routing, Service Contract and Quote Management; Regulatory Compliance CBP and FMC; Automated eInvoice Audit and Payment; innovative What-If-Scenario Analysis tool; interactive online Sailing Schedule. Freightgate is ISO 9001:2008 certified. Visit Freightgate at: http://www.freightgate.com