Fox Web Creations Announces New Series of Infographics on Kansas City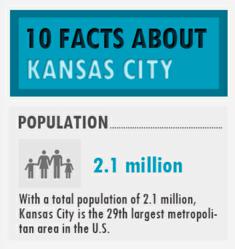 Kansas City, MO (PRWEB) March 25, 2013
Fox Web Creations, a leader in local web design and marketing has started a new project which is gaining interest. A few months ago, the Greater Kansas City area web design firm began the process of increasing the visibility of the city with infographics. "I was looking for information on KC, and I was having trouble finding anything," said Accounts Manager Glynnis Thomas. "I found tons of information on other major cities, but nothing about where I lived." After discussing options internally, Fox Web Creations decided to begin a series of infographics on the subject to improve the available information on the city they have made their home.
Informational Graphics, or Infographics, are visual representations of data, information, or knowledge, intended to quickly impart complex information to the viewer. They improve the brains ability to infuse and understand information by capitalizing on the human visual system's ability to recognize patterns and trends. Some common infographic examples are subway maps, images of weather predictions in the newspaper, and statistical representations like pie charts or bar graphs. Infographics have been around for as long as humans have been able to write, and appear again and again, across the world and throughout history.
The use of infographics has been on the rise recently, and for good reason. Because visual representations are such an effective way of communicating, infographics have become an important tool for many companies to communicate and attract potential customers. Reda El Amri, lead developer and CEO of Fox Web Creations had this to say, "The design was the exciting part for me, but the whole process of conveying knowledge is something that we feel is important, and something that our company holds as a core value."
When Fox Web Creations first decided to start making infographics, they felt it was important to start with the data. Head of Research, Kristin Kush, has a long history of working with data, as well as data analysis. "Knowing information is only half the battle," said Kristin. "If it is not conveyed in a way that brings understanding, than it isn't useful to anyone." This is where everyone can come together to create informative and beautiful infographics that educate people. "While our initial focus is going to be on the Kansas City area, we will also be exploring infographic options on other topics, and using them to grow our business," added Reda. If your business is interested in increasing their visibility through marketing or infographics, please visit us at FoxWebCreations.com, or give us a call at (816) 479-5904 and ask for a free quote.