Five Trends Representing the New Frontier for Business-to-Business Marketing are Identified in New Management Brief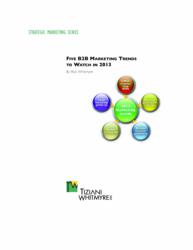 Sharon, MA (PRWEB) March 29, 2013
Five trends representing the new frontier for business-to-business (B2B) marketing are identified in a new management brief from Tiziani Whitmyre, Inc. The brief, Five Business-to-Business Marketing Trends to Watch in 2013, is available to download from http://www.tizinc.com/white-papers/b2b-marketing-trends.
During 2013, business-to-business (B2B) marketers will be confronted by new opportunities too great to be ignored. We see five trends that will offer exciting potential for those who harness their power, said Rick Whitmyre, Tiziani Whitmyre, Inc. president, and author of the brief.
In the brief, Whitmyre identifies and discusses the five business-to-business marketing trends as including:

1.