Firebox Introduces New Introduction to Python Training Course with Practical and Immediate Applications in Mind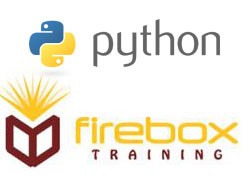 Golden, CO (PRWEB) April 19, 2013
Firebox has announced the addition of a new Python training course that will be offered in a four-day format. The course-ware being used for the new Python training course was recently completely re-engineered from the ground up. The previous version of the course-ware lacked some of the practical application aspects included in the new course. The new Introduction to Python | Fundamentals and Essentials of Python four-day course, jump starts students into action. After completing the course students will immediately be able to use Python to complete tasks in the real world.
Some of our best Python instructors also do consulting. Instructor-led online Python courses help these instructors bring recent real-world experience to the classroom, said Julie Johnson, Founder of Firebox Training.
In this four-day Python Fundamentals training course, our students get a hands-on learning experience starting with the Python programming basics of writing and running Python scripts to even more advanced Python programming features such as file operations, regular expressions, and using the extensive functionality of Python modules, said Mr. Johnson. If you are an IT professional looking to modernize the tools in your skills set, becoming a Python programmer and developer is a definite must and Firebox can help you get there.
Firebox Training is instructor-owned and instructor-operated. According to Firebox, Python and other programming instructors are well vetted – its part of why they seek out actively consulting instructors. Firebox seems to be finding success with this top-grading of instructor talent, which means only the most qualified deliver Python training. The new Introduction to Python four-day course is delivered most often as a live instructor-led public online course-the virtual classroom. Additionally, the courses are taught on-site at client locations throughout the US and world. Firebox also offers traditional classroom style IT training courses.
The upstart and growing IT training firm recently passed another milestone with their Firebox YouTube channel subscribers exceeding 1000. Firebox has also integrated many of the YouTube video training tutorials into their website blog including Python training videos like this one: http://www.fireboxtraining.com/blog/2013/04/17/python-training-how-to-install-pydev-plugin-in-eclipse/. Firebox also received some very positive feedback from recent post course student surveys, according to company sources.
'Possibly the best online training courses I have ever taken,' was a student comment we received recently, stated Shawn Johnson, Director of Operations at Firebox Training. We take our post Python training surveys seriously and make adjustments as needed.
There is a wide variety of industries using Python programming from web development, gaming and graphics firms to financial, science and business software. Clearly Python is a widely used and popular coding language today. Education and governments are also implementing operational solutions using Python.
Python programming skills are in high demand right now. In fact at the start of Q2 2013, there were more that 2000 Python programming jobs advertised on Dice.com, a leading IT employment source. There are a wide variety of employers and locations seeking to hire IT professionals with Python skills and the Introduction to Python programming course offered by Firebox Training empowers students to get past technical interviews and land a job. Python programming is also relatively easy to learn and very flexible as compared to some other code languages.
All Firebox courses, whether onsite or online are instructor-led live classes, with an hour break for lunch. The class is very hands-on, 50% lecture and 50% lab with Q&A. All courses include course-ware, live instruction and a certificate of completion.
Firebox Training is instructor-owned and instructor-operated, meaning the very structure of the training business is student-centric. Firebox instructors are also consultants that bring in real-world scenarios into the classroom environment. Firebox Training was founded in 2007 in Golden, Colorado. The owner of the company is not only the technical director, but she also delivers and creates many of our courses.
Firebox has delivered training for well known organizations including, General Dynamics, Bank of America, Comcast, NREL, Vertafore, Fidelity Investments, Micron Technologies, Time Warner, and HP, just to name a few. Instructors have traveled to client locations across the globe. Most recently, completing training in Sydney, Singapore, London, New York, Austin, Seattle and Denver.
You can learn more about practical Python here: http://wiki.Python.org/moin/OrganizationsUsingPython.