DramaFever Brings Hit Japanese Television Series MISCHIEVOUS KISS: LOVE IN TOKYO to America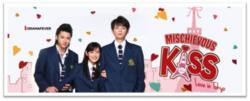 New York, NY (PRWEB) April 12, 2013
American audiences will be able to watch the hit romantic comedy MISCHIEVOUS KISS: LOVE IN TOKYO with English subtitles on the same day it airs in Japan at video streaming website DramaFever.com. One of the most anticipated television series in the world will come to viewers in North America on DramaFever.com and on the free, ad-supported Hulu and Hulu Plus subscription service.
Direct Link:

http://www.dramafever.com/drama/4257/Mischievous_Kiss%3A_Love_in_Tokyo/
MISCHIEVOUS KISS: LOVE IN TOKYO has proven international appeal. Based on a phenomenally popular graphic novel that sold 30 million copies in Japan alone, the original comic series became a hit throughout Asia and in the United States. In 2011, the American Library Association recommended MISCHIEVOUS KISS in its Great Graphic Novels for Teens collection. MISCHIEVOUS KISS: LOVE IN TOKYO is the fifth time the series has been adapted for television (once as animation), and will bring a fresh take on the well-loved romance.
Building on its success with bringing simulcast Korean programming to an English-speaking audience, DramaFever is expanding its partnerships to deliver a Japanese series on a same-day video-on-demand basis for the first time. Like all DramaFever series, MISCHIEVOUS KISS: LOVE IN TOKYO is professionally translated and offered in high definition.
On April 12th, DramaFever will begin streaming the series online, and starting April 19th will be offering American viewers same-day English translation and viewing on DramaFever.com, Hulu and Hulu Plus.
ABOUT DRAMAFEVER

Established in 2009, New York-based DramaFever is the leading American video website for bringing Asian television to English-speaking viewers, with hundreds of series available and millions of monthly users. To learn more, visit http://www.DramaFever.com.