Crowdfunding to Change The Way People View Networks, Information And Commerce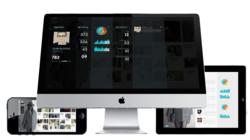 London (PRWEB) June 17, 2013
Urban Cloud is a next-generation social network that has focused on five key areas of innovation:
Innovative Design Urban Cloud is the worlds first social media platform that seamlessly unites social networking and marketing.
Native Advertising Urban Cloud uses a proprietary algorithm called STAC (Space, Time, Active, Content) to blend advertising into a users social timeline.
Validation Urban Cloud is able to weed out unverified and fake/spam user accounts, allowing for an enhanced social media experience for advertisers and users.
Positive Reinforcement – Urban Cloud features a unique reward system, through which a user can accumulate points for interacting with a business. These can be redeemed for rewards to build brand loyalty and recognise social influencers all at once.
Retailing – Each and every user has the ability to retail virtual goods and services on the Urban Cloud platform.
Only half of what Urban Cloud will do has been released (and weve only developed another 20% of the idea). The rest is being given over to the people; their voices will influence what features are implemented next and how the cloud develops.
We are uniting people at the centre of an internet revolution. Having launched a crowdfunding campaign on Indiegogo we have placed Urban Clouds future into the hands of the world. The community will transform the platform through their collaborated ideas, influencing Urban Clouds direction, and the features implemented on the platform.
We are currently at the prototype stage of development, and are set to launch our second iteration in the coming weeks. It will allow users to create an account, post content and collaborate to improve the Urban Cloud experience for all.
We will also be periodically releasing improvements as the site develops and are set to launch in October.
Businesses out there need this in their lives and we are proud to be a part of it from the onset. Look forward to the future of social business enterprise – Chris Charalambous, Global Creative Director QUINTESSENTIALLY CREATIVE / LIFESTYLE
Notes to editors
The Urban Cloud team:

Edward Heywood – A social science graduate from Queen Mary University, where he specialised in network theories. The initial Urban Cloud concept came out of his research and the problems that he identified.
Peregrine Park – At 15, Peregrine was interning as a software developer for a European Space Agency mission. From there his computing skills flourished as he studied Computer Engineering at Imperial College London, before working with the Business Intelligence Reporting Services team at Microsoft.
Sharan Soni – A national chess player since the age of 11, Sharan has worked to great effect in real estate management and development, and today is reading towards a degree in Business Management at Kings College London.
Additional Material
For more information on our crowdfunding campaign visit: http://www.indiegogo.com/projects/urban-cloud-shape-the-future/x/2188295
The Urban Cloud Infographic detailing the current social media landscape, the flaws associated with existing platforms and the solution, Urban Cloud: http://visual.ly/state-social-media-0.
To view our promotional and crowdfunding videos, go to: http://www.youtube.com/urbancloudnetwork