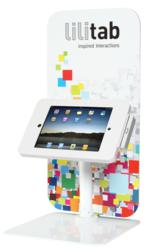 San Francisco, California (PRWEB) April 12, 2013
Lilitab tablet kiosks empower customers to not only discover, but to also complete transactions using the versatile self-service kiosks. Encourage in-store online ordering; the Lilitab Pro Counter provides additional self-service stations and can be deployed for temporary counter top use during peak customer traffic.
Expand sales opportunities and provide superior customer service with the versatile Lilitab Pro Surface tablet kiosk. Featuring a fully integrated and secure card reader option and the patented Mag-Dock lock mobile hand held unit, this clever design quickly transforms into the perfect line-busting tool.
Lilitab tablet kiosks are versatile, modular, and easy to customize. The design encourages custom display of tablets at precise locations in stores. Freestanding, tabletop, surface mount and wall mount options accommodate any merchandizing space requirement. Keyboard and printer shelves are also available as added accessories.
Capture attention with smart branding options for the Lilitab Pro Standard tablet kiosk. Full length backdrops, banners and faceplate graphics make promotional messages pop on this versatile tablet kiosk. Lilitab offers custom branding, banner mounts and eye-catching backdrops to promote special events or seasonal activities.
Lilitab tablet kiosks securely enclose any 10 tablet (i.e. Apple