Content4Demand Showcases New Campaign Playbook At SiriusDecisions Summit 2013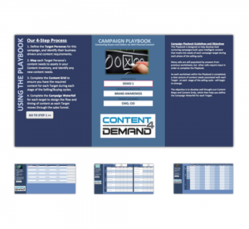 Hasbrouck Heights, NJ (PRWEB) May 07, 2013
Content4Demand, a division of G3 Communications, will debut its new Campaign Playbook during this weeks SiriusDecisions Summit 2013, which will be held May 8-10 in San Diego.
Content4Demand is a Gold Sponsor of the annual SiriusDecisions Summit, which is an invitation-only event where top marketing and sales leaders from Fortune 500 companies and major SMBs share strategies to drive growth.
With content a key part of the agenda at this year's SiriusDecisions Summit, Content4Demand will be providing attendees with a preview of the foundational Campaign Playbook. This new tool, which was created with hands-on feedback from Content4Demands more than 100 clients, was designed to help marketers better formulate and manage their content campaigns.
The Playbook assists marketers with the following components of campaign planning: