BobCAD-CAM, Inc. Releases New Advanced Artistic CAD/CAM Software for CNC Machining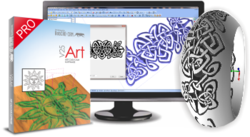 Clearwater, Florida (PRWEB) May 31, 2013
Computer Aided Design & Manufacturing software company BobCAD-CAM, Inc has just released their new V25 BobART PRO software module. The release comes as an upgrade to their existing BobART artistic CAD/CAM software module. The new BobART PRO upgrade provides new functionality for anyone that needs to turn photos, bitmap type images or created drawings into vectorized geometry or complete embossed models. Then the embossed model or profile geometry can be machined in the CAD/CAM software. The BobART PRO software is a great choice for CNC Milling, Routing, Waterjet, Plasma, Burning and Laser machining. New BobART PRO artistic features include Wrapping embossed models, the ability to create an embossed model from an STL file component, a save to component STL file feature, removing non-embossed areas from a project, the ability to create and use custom cross sections when creating embossed models, 64 vectorization color levels and many other features. Because the new PRO version offers 64 color levels of vectorization, the user can create much more detailed vectorizations of color pictures.
The new wrapping feature allows the user to create a flat embossed model and then wrap it into a cylindrical shape which is great for jewelry-making among other things. This new feature also helps in the programming of 4 axis rotary type parts.
The new "emboss from component" feature allows the user to bring in multiple STL files and use them as component parts to a job. Then, other functions such as mirroring, rotating and scaling can be used on these components to further customize the embossed model. There are many new artistic features that give anyone the ability to create and machine custom signs, jewelry, custom woodwork and other type of projects easily by using drawn designs, pictures or photos to quickly make 2D and 3D parts. Simply open the picture and create an embossed model directly from it or vectorize the picture and use the outline to create stunning works of art with your CNC Mill, Router, Waterjet, Plasma or Laser machine.
If you are interested in more information on the new V25 BobART PRO CAD/CAM software, you can contact BobCAD-CAM directly at 877-262-2231 or 727-442-3554. You can also download a free demo of the software at http://www.bobcad.com.