BlueWave Computing Recognized Among Georgias Top 40 Fastest Growing Companies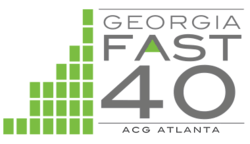 Atlanta, GA (PRWEB) June 03, 2013
Atlanta-based IT services firm, BlueWave Computing, received the Georgia Fast 40 award which recognizes the region's fastest growing mid-market firms. The award was announced last week by the Atlanta Chapter of the Association for Corporate Growth (ACG Atlanta).
Each year, ACG Atlanta honors the Georgia-based middle market companies that demonstrate the greatest growth in revenue and employment over the prior three year period. Rankings are objectively based on weighted three-year average growth in revenue and employment.
Dr. Steven Vicinanza, BlueWave CEO says, BlueWave continues to post outstanding organic growth despite the weak economy. Part of that success is a dramatic expansion of our information technology service offerings, which now include a full range of cloud-based managed services, information security management services and unified communications services. In addition to these new product introductions, sustained corporate growth can be attributed to winning many new clients and keeping current clients happy with a client retention rate of 95 percent. Sustained growth has earned BlueWave a spot among the fastest growing managed service providers in the country.
With this award, BlueWave adds to a highly impressive track record that includes five consecutive years on the INC Magazine Top 5000 list, the Atlanta Business Chronicles Pacesetter Award, the Atlanta Journal Constitutions Best Workplace award, and the coveted Atlanta Consumers Choice Award for IT services.
About BlueWave Computing, LLC

BlueWave Computing helps growing businesses take control of their IT resources and align IT with their strategic objectives. BlueWave offers a full range of services including IT planning, CIO services, information security management, IT support, managed services, cloud computing, and custom application development. BlueWave consistently wins awards for customer service, corporate growth, and quality of its workplace environment. BlueWave is rated among the top IT managed service providers in the country.
About ACG Atlanta

ACG Atlanta is the Atlanta Chapter of The Association for Corporate Growth