Bison Gear Celebrates 50 Years of Excellence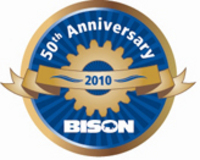 St. Charles, IL (PRWEB) January 26, 2010
Today, over 200 employees of Bison Gear & Engineering Corp. gathered to celebrate the 50th anniversary of the founding of the St. Charles, Illinois headquartered gearmotor manufacturer. Bison was established in 1960 by three Chicago area entrepreneurs who derived the company's name from their last initials of B-S-N. The company began as a producer of gears and today manufactures gearmotors, electric motors and gear reducers for hundreds of customers ranging from successful entrepreneurial OEMs to many multinational industrial and commercial equipment OEMs. As one example of its success, Bison gearmotors are used in a wide variety of foodservice equipment found in virtually every fast food establishment throughout the world.
"While Bison's continuous growth and development have been driven by our many loyal customers, to whom we are very thankful, it would not have been possible without the commitment to excellence that has driven our associates now for half a century," said Ron Bullock, Bison chairman and owner. "Going forward, Bison's strong focus on skills training and research and development will ensure our next half century of success as an American manufacturer."
Beginning as a producer of gears and designer of custom gear reducers, by the late 1960s Bison's engineering expertise, quality systems and production controls were instrumental in Bison winning a contract to supply critical gear sets for use in surface to air missiles. Bison's continuous improvement efforts maintain that relationship through three generations of missile systems. By the 1970s Bison had designed a line of standard gear reducers and gearmotors sold through national distribution.
In 1981, Ron Bullock joined Bison as vice president of marketing and engineering and subsequently purchased the company in 1987. Shortly thereafter, Bison acquired Ram Tool Corporation as the basis for Bison's entry into DC motor production. In 1996, Bison's expanding standard product line of fractional horsepower gearmotors and its growing OEM customer base were accommodated by its move to a new 115,000 sq. ft. production facility in St. Charles, Illinois. Bison entered the 21st Century as possibly the only American manufacturer investing in new domestic AC motor production in order to better serve its customers by shortening the supply chain, while yielding greater versatility.
Today, Bison employs Baldrige criteria for performance excellence and drives a Lean Six Sigma enterprise to ensure customer satisfaction, while still serving its first OEM customer. Entering its semicentennial year, Bison continues with dynamic new product and technology introductions like its new 39 Frame AC motor line, which offers greater torque density in a smaller package, while extending Bison's line of Verdant Duty AC gearmotors.
About Bison Gear & Engineering Corp.

Founded in 1960, Bison Gear & Engineering Corp. designs and manufactures fractional horsepower electric motors, gearmotors and gear reducers used in industrial and commercial OEM applications worldwide. Bison's strong engineering tradition, based on Robusticity principles, offers products with up to twice as much torque in the same package size as competitors. Bison's St. Charles, Illinois integrated production facility manufactures gearmotors and reducers in parallel shaft and right angle configurations, as well as AC and DC electric motors, for applications where dependability and long lifetimes are important. All web and catalog products are supported by Bison's In-Stock, Instant-Ship (ISIS) program, which ensures immediate delivery of standard products. http://www.bisongear.com.
###