Acuity Games Responds to "Brain Games Are Bogus"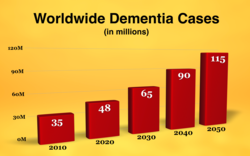 Pompton Plains, NJ (PRWEB) May 03, 2013
The New Yorkers website published an article proclaiming, Brain Games are Bogus on April 5. Acuity Games, agrees with the research, but rejects the conclusion.
The article questions the benefits of brain games that are based upon working-memory training. Citing research from Georgia Tech and the University of Oslo, the article concludes that this approach is largely ineffective.
Does anyone really think a few minutes a week of brain training is going to produce significant brain fitness results? asks Dan Hansen, founder of Acuity Games. The research is clear, a combination of healthy diet, regular exercise, quality sleep, reduced stress, active social connections and mental stimulation is what drives brain fitness.
But the fact remains that 2 billion people will be at risk of suffering from dementia by 2050. Dementia prevention requires improving the brain fitness results of lifestyle choices in the years before becoming at risk for the disease. The best way to improve results is to measure them; thats why Acuity Games apps focus on Lifetime Brain Fitness Measurement, and not mental stimulation alone. Acuity Games are a scale for your brain, he concluded.
About Brain Fitness
Dementia is poised to become the healthcare crisis of the 21st century, with over two billion people at risk for the disease by 2050. Because the brain fitness decline that leads to dementia begins as early as age 27, it needs to be addressed years before becoming at risk for the disease. Researchers report that up to half of Alzheimers cases, the most common form of dementia, may be preventable through healthier lifestyle choices.
About Lifetime Brain Fitness Measurement
Independent research indicates that the mental stimulation found in brain games provides only a minimal benefit. Acuity Games reinvents brain games by putting the focus on brain fitness measurement, combining speed, skill and success metrics into an intuitive Brain Fitness Index. This powerful measurement is recorded automatically, and displayed in daily, monthly and yearly graphs, for up to 100 years, making it incredibly easy to see if brain fitness is improving or declining. If you want to improve brain fitness, measure it.
About Acuity Games
The Acuity Games line of brain games empowers people to improve brain fitness through lifetime brain fitness measurement; measurement that verifies the brain fitness results of healthy lifestyle choices. Acuity Games are a scale for your brain. Learn more: http://acuity-games.com.