2G CENERGY Produces First Dedicated Hydrogen Internal Combustion Engine Powered CHP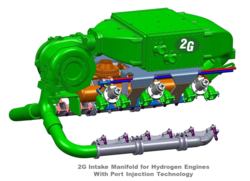 St. Augustine, FL (PRWEB) June 06, 2013
2G CENERGY announced that the 2G Group began production of dedicated hydrogen fueled CHP (combined heat and power) cogeneration systems with 6- and 12-cylinder engines, making it the first CHP manufacturer in the world to do so.
These engines represent a significant milestone in 2G's research and engine development efforts in hydrogen technology, said Christian Grotholt, President & CEO of 2G Energy AG. We have learned a great deal about hydrogen powered internal combustion engines during the development phase of this engine family.
2G's hydrogen internal combustion engine family is much more than just an advanced production engine. These CHP systems are specially prepared to burn hydrogen as a fuel, but are based on the same modular engine series that powers many 2G CHP products fueled by natural gas, biogas, or other specialty gases. Significant efforts were made to optimize this engine for hydrogen fuel to achieve maximum efficiency and robust durability. Prior to production, 2G dedicated years to development and performed thousands of tests on the factories engine test cells to ensure optimum durability and performance. The engine development process replicated the same stringent durability standards applied to all other 2G CHP engines.
2Gs IL6 and V12 hydrogen-fueled engines are powering 2Gs agenitor