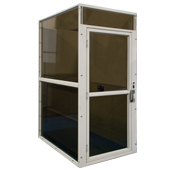 (PRWEB) April 30, 2013
To make their buildings handicap accessible, thousands of business owners have chosen to install a vertical platform lift. Such lifts are convenient and cost effective, saving business owners thousands of dollars over the cost of installing an elevator.
However, safety codes require that most commercial applications involving a lift height of greater than 60 inches to be installed in a shaft-way. The Lift Store USA now offers a convenient, cost-effective solution the Highlander Enclosed Vertical Platform Lift from Harmar, a leading manufacturer of high-quality mobility lifts. These enclosed lifts eliminate the time and cost required to modify existing structures and are typically about one third to one half the cost of an elevator.
The Highlander platform lift is available in lift heights from four to 14 feet, can be used for both indoor and outdoor applications, and come standard with full-steel enclosure panels. Acrylic see-thru panels are available as an option. Other standard features include a full height, flush mounted bottom entrance door and 42 high top landing gate.
Numerous available options allow customers the ability to customize their vertical lift to fit nearly any application. Such options include various platform sizes and exits, i.e., same side enter/exit and 90