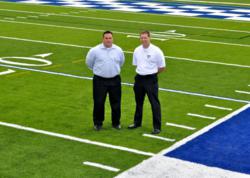 KENNESAW, Georgia (PRWEB) April 29, 2013
It would be difficult to find a more scenic high school campus than the 65-acre facility at Mount Paran Christian School (MPCS) in Kennesaw.
The campus views are spectacular, but there may be a new visual centerpiece, in the form of blue-and-white checkerboards.
MPCS has just completed installation of an all-new Shaw Sports Turf field at the schools stadium, which features the checkerboard pattern in the end zones.
Its been a two-year process, said Athletic Director and Head Football Coach Mitch Jordan. Other schools have installed synthetic turf and it piqued our interest. With the generous donation from two Mount Paran Christian families, this provides a major piece in the development of our athletic facilities and we couldnt be happier with our Shaw Sports Turf field.
Jordan said that availability was one of the major reasons the school chose to move to synthetic turf. With football, soccer, lacrosse, and other activities, the grass field was being used year-round by 10 teams, making maintenance difficult and leaving the natural surface little time to recover from wear and tear.
It also provides the teams there with the ability to be more effective in practice.
From a football perspective, we can practice every day on the field where we will play our games, which is different from a practice field, said Jordan. It gives us an advantage because the landmarks (yard lines, hash marks) are consistent and it helps our receivers, secondary, and linebackers improve their performance. It also means when we are in the goal line or red zone periods during practice, the field is properly marked and gives us the feel of being in a real game situation.
Jordan also believes the field offers other advantages for the school.
The Shaw Sports Turf field provides a new standard for athletics at MPCS, said Jordan. The product is the most technologically advanced and exceeds whats out there and it shows our commitment to athletics. I believe this will have a big impact on our school, both on, and off, the field.
Jordan cited several reasons for choosing the Shaw Sports Turf product.
We looked at every company out there, said Jordan. We believe Shaw Sports Turf offers a superior product, it is a local company, and they differentiated themselves with their technology and responsiveness to our needs.
The technology behind the new field is the new PowerBlade Bolt system, making MPCS the first installation of its kind.
Bolt is a stronger, more resilient monofilament fiber, featuring a lightning bolt shape which creates a stronger vertical axis that causes fibers to stand upright for less breakdown and increased durability. Bolt is specifically built for performance and to reflect light for a lower luster and more natural looking field.
Approximately 71% of Mount Paran students participate in athletics and they consistently show their commitment to their athletic programs, said Jim Watts, Territory Manager with Shaw Sports Turf. As a result, its no surprise that they selected PowerBlade Bolt, the most advanced engineered turf system in the market. We are looking forward to watching the Eagles success on this field for years to come.
Shaw Sports Turf has installed practice and stadium fields on more than 1,000 playing surfaces for all different types of sports and recreational activities, including many major collegiate programs such as Vanderbilt, Georgia Tech, LSU and the University of Arkansas.
Additionally, Shaw Sports Turf installed the practice and game fields for the world champion Baltimore Ravens. Torrey Smith, a wide receiver for the Ravens, is a spokesman for Shaw Sports Turf.
The project at Mount Paran was completed in late March and is already being used by several of the schools sports teams.
About Shaw Sports Turf

A wholly-owned subsidiary of Berkshire Hathaway Inc., Shaw Industries is a full flooring provider to the residential and commercial markets. Shaw supplies carpet, rugs, hardwood, laminate, resilient, and tile/ stone flooring products, as well as synthetic turf. Shaw Sports Turf is one of the leading synthetic turf companies in North America and has represented quality and innovation for more than two decades with over 1,000 successful installations, including an impressive list of high-profile field installations. For more information please visit http://www.shawsportsturf.com, call 866-703-4004 or find us on Facebook.
More Tech Press Releases