Three Disc-Burning Drives Accelerate the Speed of Aleratecs New Standalone Robotic DVD/CD Duplicator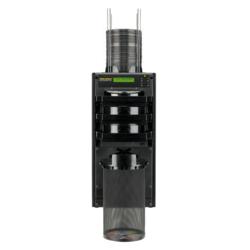 Chatsworth, CA (PRWEB) January 29, 2013
Aleratec today introduced the new 1:3 RoboRacer DVD/CD MultiDrive SA Duplicator, a fully-automatic disc duplicator featuring three DVD/CD disc-burning drives and a 150-disc capacity for rapid, hands-free completion of disc duplication projects. This new duplicator is completely standalone, so no computer is required.
The 1:3 RoboRacer DVD/CD MultiDrive SA is the next generation in Aleratecs line of innovative robotic disc duplicators, and offers more speed and convenience than any RoboRacer Aleratec has ever made for large jobs.
Aleratec RoboRacer DVD/CD disc duplicators make high-quality disc copies automatically while users are free to attend to other business. The user simply loads the duplicator with a source disc or source image via the USB connection, and up to 150 blank discs. Simple, push-button controls start the duplication process and no further user intervention is required.
"The 1:3 RoboRacer DVD/CD MultiDrive SA Duplicator advances the successful RoboRacer series with enhancements that promise increased productivity without compromising high-quality results, says Perry Solomon, Aleratecs President and CEO. Our customers will be able to complete their DVD and CD duplication jobs faster and with less interaction required than ever before.
The 1:3 RoboRacer DVD/CD MultiDrive SA Duplicator features two major enhancements to previous generations: