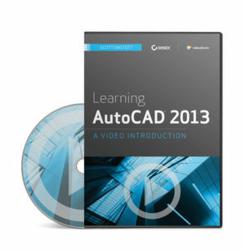 San Francisco, CA (PRWEB) November 20, 2012
Sybex, an imprint of Wiley, announces a new Learning video series for Autodesk software in collaboration with video2brain, an online video training company. These in-depth video training courses from Sybex and video2brain will help users quickly become proficient in AutoCAD 2013, Autodesk Revit 2013 and Autodesk Maya 2013.
Each video training course features more than seven hours of detailed, step-by-step instruction from leading trainers in the industry who have years of real-world experience using the software. Lessons are presented in immersive, high definition video and the interactive interface lets users quickly navigate to whatever lesson interest them, add custom bookmarks and easily access the related tutorial files. Sybex Learning Video courses are available as DVDs or video downloads, come with closed-captioning and work on Macs, PCs, smartphones and tablets.
The Sybex Autodesk Learning videos include: