Sofant Smart Antenna Technology Doubles Battery Life of Smart Devices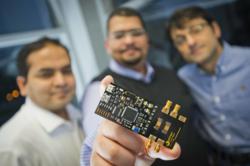 (PRWEB) January 07, 2013
Sofant Technologies will reveal revolutionary smart antenna and tunable RF solutions in Las Vegas this week after winning their place at CES 2013 in the UK Trade & Investment (UKTI) competition for the worlds next big thing.
Consuming 90% less energy and predicted to double battery life, this is the first time miniaturised smart antenna technology has been used in mobile devices and could eradicate some of the biggest barriers to smartphone development including short battery life, dropped calls and poor signal quality.
Antenna technology has not kept pace with the constant advances in functionality and performance of smartphones. Additionally, the current rollout of new communication protocols such as LTE and 4G means ever-increasing pressure on existing antennae.
Sergio Tansini, CEO of Sofant, explains: Battery life and connectivity are key problems for the global mobile device market. Antennae account for 50% of power consumption when a device is on standby and even more during calls. Because antenna technology has barely moved in recent years the antenna continues to act as a bottleneck to data transfer.
In reality this means that every new generation of smartphone actually performs less well than its predecessor. Sofant has developed the technology capable of transforming the performance and user experience of mobile devices forever.
Headquartered in Scotland, Sofant has developed three core technologies comprising RF MEMS, antenna and software. This powerful combination provides a steerable and focussed antenna – SmartAntennaTM – that can lock onto the best signal available at any given time.
By improving the rate of data transfer SmartAntennaTM provides a higher level of connectivity than conventional antennae. It also consumes 90% less energy, boosting battery life.
As well as benefiting individual mobile devices, Smart AntennaTM will also reduce network congestion caused by weak signals and dropped connections, diminishing the need for more base stations.
SmartAntennaTM will also address other mobile device constraints including suitability for large numbers of frequency bands.
Together with Sofants tunable RF MEMS based modules – AvtoRFTM – and Sofant Intelligent Software SISTM the companys technology enables superior performance, reliable connections, lower RF power consumption and better signal quality, eliminating issues such as dead zones.
The technologies can be licensed individually or as a single smart micro antenna system.
The International Consumer Electronics Show (CES 2013) is being staged in Las Vegas between 8-11 January and will feature 3,000 exhibitors unveiling the latest consumer technology products and services across 1.85 million net square feet of space. The exhibitions organisers believe that wireless technologies such as Sofants will be the centre of attention at this years event:
Wireless convergence is set to unleash a plethora of real world, next-gen wireless technologies at the 2013 CES, says Karen Chupka, Senior Vice President of International CES. Half of the fun of the 2013 CES will be seeing the news announcements, experiencing the latest wireless technologies firsthand and learning more about whats to come in our keynotes, sessions and TechZones.
Visit Sofant in the Tech-Zone, booth #73508, 3rd Level of The Venetian, Eureka Park.