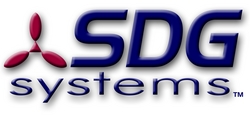 Zelienople, PA (PRWEB) August 11, 2009
SDG Systems, LLC (SDG) announced today that they have signed as a distributor with Bluebird Soft, Inc. "SDG Systems is enthusiastic about our new relationship with Bluebird Soft," said Todd Blumer, President of SDG Systems. "Bluebird has a reputation of providing cutting-edge and full-featured rugged mobile hardware platforms at compelling price points. The solutions are unique in the market place from a combination of functionality and pricing."
SDG Systems is now selling and supporting the Bluebird Pidion mobile products, with a focus on the BIP-6000, BIP-1300, and BM-150R PDA and data collection devices. SDG Systems also announced plans to port Linux to the Pidion products. The Linux implementation for the BIP-6000 is currently in progress with a projected completion during the 3rd Quarter, 2009.
Bluebird Pidion Product Descriptions: