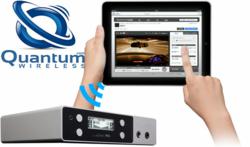 Las Vegas, NV (PRWEB) January 09, 2013
Quantum Networks (INC 500 #56) and Cerevo Ltd. have reached an agreement granting Quantum Networks exclusive North American distribution rights on Cerevo products. The announcement comes on the Eve of CES 2013, where representatives from both companies will showcase the revolutionary Cerevo LiveShell and unveil the LiveShell PRO.
The deal to bring the LiveShell and LiveShell PRO to North America fills a large gap in the live streaming market, enabling users to stream live HD Video to more video-sharing platforms than ever before by connecting any video camera to the device without a PC.