Over $141 In Perks With Domain Name Registration From InternetDirectSolutions.com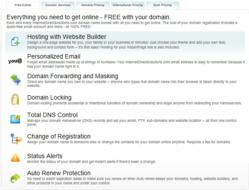 WALNUT, CA (PRWEB) January 07, 2013
This time of year, entrepreneurs looking to start new businesses without going over the fiscal cliff can begin with internet domain name registration offered by http://www.InternetDirectSolutions.com. In addition to receiving a custom .com, .net, or .org domain name for less than $ 10, hobbyists or business owners also receive over $ 141 in free perks.
These complementary add-ons include: a Starter Web Page; Hosting with Website Builder; a Personalized Email Account with 100 Email Variations; a Photo Album; Free Access to Quick Blogcast Tool; Domain Forwarding & Masking; 100 Email Variations; Auto-Renew Protection; Total Domain Name Server Control; Change of Registration Privileges; Key Status Indicator Alerts; Domain Locking To Prevent Unauthorized Transfers; and Reliable 24/7 Customer Service.
Before I put together this offer, I was paying $ 30 a month for a .info email address that didnt really meet my needs, explains domain name reseller David Hooper. Ive endured all sorts of horror stories from companies that auto-charged me without permission, to $ 300 mistakes when customer service couldnt be reached to install my script properly. Over the last 7 years, Ive researched the least expensive way to get a D.I.Y. website up and running and now Im offering the same cost-saving deal to others.
In addition to offering domain names for less than $ 10, individuals who already have websites built can buy hosting for as little as $ 3.99, spam-free email for 84 cents, and e-commerce solutions for $ 9.99 per month. The lowest price hosting package comes with 10 GB Storage Space, Unlimited Bandwidth, 100 Email Accounts, 10 (1 GB) MySQL Databases, $ 50 in free Facebook ad credits, $ 50 in free Bing ad credits, and 10 free Fotolia photo credits.
For just $ 14.99 per month, individuals can received Unlimited Storage and Bandwidth space, 1,000 Email Accounts, free premium DNS, malware scanning, an SSL certificate with fixed IP address, $ 100 in free Bing ad credits, $ 50 in free Facebook ad credits, and 10 free Fotolia images.
At InternetDirectSolutions.com, we are all about providing quality services and customer support for a sane price, Hooper explains. This special offer is ideal for new businesses, hobbyists who want their own email domains, new bloggers in search of a reliable host, people who want to build an online store, or gamers looking for dedicated servers.
What truly sets this reseller apart from the masses is the top-notch customer service, says David Hooper. He has filtered through multiple companies over a 7-year period to find the most responsive, helpful tech support professionals in the business. Individuals receive a money-back guarantee with their domain registration / hosting package, which is true testament of the resellers commitment to his clients.
—

About: David Hooper is a custom domain name registration reseller from California. After 7 years of owning custom domain names, he is sharing the lessons hes learned as a small business owner and helping others find the most affordable, efficient ways to get their dreams off the ground and online.