FileIncomeTaxesToday.com Announces The Advantages to Online Tax Filing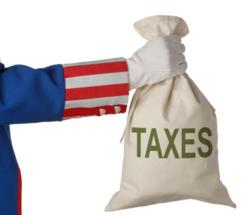 Tampa, Fl (PRWEB) January 31, 2013
Once again the time has come to complete tax returns, for those who are still filing manually, it is high time to make the switch to e-filing. This is now what the I.R.S officially wants everyone to do, by offering fewer and fewer incentives in sticking to paper (from now on they arent even sending tax forms and tax info in the mail), and offering more and more benefits for doing it online. Personal paperwork can still be ordered or head to a local tax office, but if the I.R.S had their way, every single tax payer would be doing the return online, and although a good chunk of the population are sticking to paper, the 100 million that have switched to e-filing will happily share just how much better it is. FileIncomeTaxesToday.com provides resources for filing taxes online and is happy to provide useful information on the advantages of filling taxes online.
For those who are undecided, put the best foot forward and make the switch, because there are many advantages to filing online. Lets go over the main advantages.
Last minute tax filer?

A crucial benefit for those who like to leave it to the last minute (or those who like to forget) is that e-filing helps from getting into trouble even if the time is really close to the submission deadline. The traditional route takes into account the time it takes to mail the documents which takes more time. Having said this, e-filing should not make you complacent. Once the return has been received by the state department, they will send an electronic confirmation so you can be sure of when the return was received.
Dont trust others to do it accurately

When paper returns are filed, the information has to be keyed into the system by a human I.R.S employee? Because of this there is chance the information will be typed in incorrectly studies reveal that paper returns have on average a 20% error rate. In contrast, there is no need to do this when a file is completed online the error rate for electronic filing is only 5%. This makes accuracy a big advantage, as long as everything is filed correctly.

Strapped for cash? Get the refund quicker
Sending a paper tax file to the state tax department can take up to eight weeks to receive the tax refund, but with e-filing the refund will get back much quicker. It usually takes around three weeks for e-filing, and its possible to speed up the process by opting for wired transfer into a bank account. This is a great benefit, especially if the money is needed fast.
It could be free (and really easy)

Commercial online software is available to complete the tax return, or a company with the Free File Alliance (a group of tax return software companies endorsed by the I.R.S). For Adjusted Gross Income of less than $ 57,000, there are plenty of free software choices for federal returns, and furthermore, the process is often automated in this case all that is required is to answer the questions and everything will be automatically completed.
It reduces the processing costs

It always costs more money to do things manually than not to, and it costs a few dollars to manually process each paper tax return. In contrast, it only costs a few dimes to process each electronic return. Now this might not sound like much, but it soon adds up when considering the millions of returns filed each year, and although this saving does not reach users directly, the state saves money and can thus put it to better use elsewhere. There were 1,200 full-time and almost 700 seasonal workers at the I.R.S in 2001, but now there are many fewer employees.
Ensure the safety of private information

Electronic submission is perfectly safe and secure. The websites always use the latest security measures such as SSL for the encryption of data. To help prevent fraudulent activity, there is the option to electronically sign them. This signature is actually a unique five-digit number which you can choose, and which the I.R.S will associate with a return. Another two security measures require you to enter the adjusted gross income from a previous years return, and date of birth.
Help the environment

This is an obvious point, but you might forget that when users file online, they dont have to use paper. Agencies have responsible practices for the paper they receive, but it still costs energy to pulp the paper and make new recycled paper out of it. Help save trees and reduce the carbon footprint by doing it online.
Despite all of these advantages, some Americans across the country would still rather take care of their tax return manually, sitting at their desks with their calculators. This might be simply due to the force of habit, or there may be some sense of distrust or trepidation (especially for older generations who do not rely on computers for much) in doing it all on a computer, but no matter who still files manually, and though paper returns are still fairly common, it is a better choice to do it online.
There are plenty of online services to help calculate a return, which is especially useful for people with difficult returns who usually rely on an accountant. With the e-filing process users can quickly and easily file a return without having to leave home, be confident that it is accurate, can file it later than those using paper filing, reduce the burden on the state, and help cut down on paper waste. Once users try e-filing its doubtful they will ever go back to the old way of doing things. Everyone should try efiling this year and check out additional advice at FileIncomeTaxReturns.com.
Find More Computer Press Releases