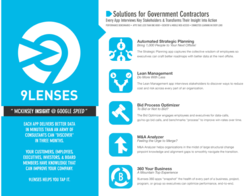 Washington, D.C. (PRWEB) January 30, 2013
9Lenses announced the release of five landmark crowd-sourcing applications to reduce the uncertainty faced by government contractors.
Federal service providers face uncertainty on nearly every front. Budgets are uncertain, contract renewals are up in the air, and regulatory modifications are making it increasingly difficult to decide how to invest scarce resources, notes Edwin Miller, 4 time-CEO and Founder of 9Lenses. Contractors trying to win more bids with fewer resources, and thats placing a lot of strain on the C-suites strategic abilities. I wanted to help, so we developed our GovCon suite which allows executives to leverage the knowledge thats already in their company to mitigate risk, and improve win-rates.
Every app reduces uncertainty by linking executives to insight from stakeholders across every part of their company. Here are the apps: