United States Geography Practice Made Fun With New Educational App From Learning Gems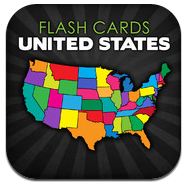 Portage, MI (PRWEB) November 14, 2012
Flash Cards United States, a new app from Learning Gems, provides children with an educational game that teaches United States geography and other useful facts. This educational app for kids and adults alike, is now available in the Apple, Barnes & Noble and Kindle app stores as well as from Google Play, can also be an entertaining way for adults to brush up their knowledge of U.S. geography.
This colorful new app offers 430 flash card variations along with nine different modes of gameplay. These include identifying states on a map of the United States, distinguishing capitals of the states as well as states by their capitals, recognizing states by their shape and also by their abbreviation along with matching abbreviations to the states, differentiating state flags, selecting famous places in the country and determining the various state birds.
Through creating an enjoyable, engaging activity, Flash Cards United States draws in the attention of students who can practice the different game modes. The bright graphics are eye-catching and through fun gameplay, children and adults are provided with meaningful, educational entertainment. Playing Flash Cards- United States overtime, students and their parents will learn or have their memories refreshed with state shapes, capitals, flowers, trees, stones, mottos and more. Flash Cards United States provides an excellent supplement to geography curriculum with the added bonus of useful trivia.
Learning Gems, a sister company of Blue Fire Media, has a line of educational apps that provide exciting ways for young children to practice various skill sets. Other topics covered in the different apps available include math, U.S. coins, spelling, basic shapes and colors as well as Spanish. The team that can be found in Portage, Mich. is a creative mix of graphic designers, programmers, schoolteachers and copywriters.
Sister company to Learning Gems, Blue Fire Media, which can also be found in Portage, Mich., are a team of professional web designers who specialize in web marketing and SEO.