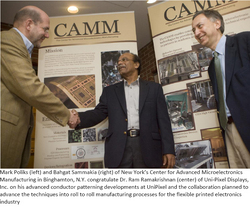 The Woodlands, TX (Vocus) July 9, 2009
Uni-Pixel, Inc. (OTCBB: UNXL), the developer of a color display technology called Time Multiplexed Optical Shutter ("TMOS"), today announced that it has joined the Center for Advanced Microelectronics Manufacturing (CAMM) at Binghamton University, State University of New York. Supporting the CAMM's mission to demonstrate the feasibility of Roll-to-Roll (R2R) flexible electronics manufacturing, UniPixel will leverage its recent grant from the FlexTech Alliance to further advance its R2R Conductor Patterning Capabilities that it has developed for its Opcuity Active Layer Films. The company believes that its advances in inkjet patterning of conductors on thin films can become the basis for developing printed flexible circuits for solar, biomedical, micro-fluidic systems and other markets.
Leading the project for UniPixel will be Dr. Ram Ramakrishnan who has been the key scientist behind the advances in UniPixel's conductor patterning development. During the course of development of the unique polymer films used in the company's TMOS displays, UniPixel has pioneered a method to use an inkjet printing system to pattern conductors on films at significantly thinner trace widths than previously achieved. This discovery provides the potential to enhance roll-to-roll printed electronics manufacturing by dramatically improving flexible printed circuitry, while at the same time reducing the cost of production. Dr. Ramakrishnan has led the efforts that have developed methods that use surface structure and surface chemistry to achieve sub-5 micron trace widths on the surface of flexible substrates. Currently this process is conducted in a batch environment at UniPixel where the methods and results have been well refined.
"Joining the CAMM is an important next step for UniPixel as we continue to develop our conductor patterning capabilities for our Opcuity film technology and the industry," noted Reed Killion, President and CEO of UniPixel."We believe our partnership with the CAMM will be instrumental in UniPixel's efforts to advance our conductor patterning capabilities to a high volume manufacturing process for our Opcuity film technology and the industry. Our company looks forward to our development work in this area being accelerated through the industry support and exposure that our partnership at the CAMM will bring. The tremendous team and resources available at the CAMM will be a huge support to the great work our team is doing," Killion added.
CAMM's Director and Professor of Mechanical Engineering at Binghamton University, Bahgat Sammakia, noted, "We are pleased to have UniPixel join the CAMM partnership. UniPixel's expertise in display and printed electronics provides a perfect fit with our strategic research plans. The work they have done on their unique flat panel display architecture will complement the CAMM's toolset and provide new opportunities for our members to develop new flexible electronic technologies."
While UniPixel has been engaged with the CAMM for some time, it ceremoniously signed its partnership contract with the CAMM during a recent meeting held at Binghamton on June 16. As a contribution to the CAMM's capabilities to support UniPixel's project, a specific inkjet system platform will be acquired and installed at the CAMM. This printer will provide UniPixel with the capability to support the transition of its processes and techniques.
"UniPixel's ability to advance flexible electronics and display systems can help our soldiers stay on the cutting edge of technology as they work to protect this country" said Representative Kevin Brady of Texas. "I'm also looking forward to the economic development prospects of this project. It is exciting to have such cutting edge research conducted in this area and I want to congratulate UniPixel on winning the competitively bid grant from the FlexTech Alliance."
For additional information on UniPixel contact:
Uni-Pixel Inc. Public Relations:

Stacey Voorhees-Harmon

Public Relations Consultant

Phone: 925-336-9592
Uni-Pixel, Inc. Investor Relations:

Laura Guerrant-Oiye

Guerrant Associates

Phone: 808-882-1467
About Uni-Pixel, Inc.

Uni-Pixel, Inc. has developed, patented, and is working to commercialize a new color display technology it calls Time Multiplexed Optical Shutter ("TMOS"), which can be used for a wide variety of applications, ranging from cell phones and industrial displays to televisions and large digital signage systems. In support of its TMOS development, UniPixel has created a family of thin film products it calls Opcuity that have broad applications. UniPixel's TMOS technology offers significant advantages over existing display alternatives including lower cost to produce, superior brightness, improved picture quality, lower power consumption and a broad range of design flexibility. UniPixel licenses its TMOS technology to manufacturing partners and intends to supply its Opcuity thin films to those manufacturers. UniPixel produces Opcuity FPR which serves as a high performance protective cover film for touch screen displays. The Company's corporate headquarters are located in The Woodlands, TX. For further

information please see http://www.unipixel.com .
About Binghamton University

Binghamton University is one of the four university centers of the State University of New York. Known for the excellence of its students, faculty, staff, and programs, Binghamton is one of the area's largest employers and enrolls close to 15,000 students in programs leading to bachelor's, master's and doctoral degrees. Its curriculum, founded in the liberal arts, has expanded to include selected professional and graduate programs, including those of the Thomas J. Watson School of Engineering and Applied Science. The campus hosts the Small Scale Systems Integration and Packaging Center, a New York State Center of Excellence, which has a nationwide reputation in electronics systems integration and packaging. For more information, visit http://www.binghamton.edu
"Safe Harbor" Statement Under the Private Securities Litigation Reform Act of 1995: All statements in this news release that are not based on historical fact are "forward-looking statements" within the meaning of the Private Securities Litigation Reform Act of 1995 and the provisions of Section 27A of the Securities Act of 1933, as amended, and Section 21E of the Securities Exchange Act of 1934, as amended. While management has based any forward-looking statements contained herein on its current expectations, the information on which such expectations were based may change. These forward-looking statements rely on a number of assumptions concerning future events and are subject to a number of risks, uncertainties, and other factors, many of which are outside of our control, that could cause actual results to materially differ from such statements. Such risks, uncertainties, and other factors include, but are not necessarily limited to, those set forth under Item 1A "Risk Factors" in the Company's Annual Report on Form 10 for the year ended December 31, 2008. We operate in a highly competitive and rapidly changing environment, thus new or unforeseen risks may arise. Accordingly, investors should not place any reliance on forward-looking statements as a prediction of actual results. We disclaim any intention to, and undertake no obligation to, update or revise any forward-looking statements. Readers are also urged to carefully review and consider the other various disclosures in the Company's Annual Report on Form 10 for the year ended December 31, 2008, as well as other public filings with the SEC since such date.
Note to Editors: Photos available upon request
###