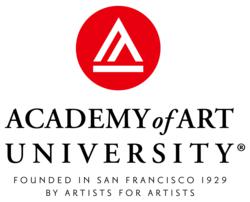 San Francisco, California (PRWEB) November 07, 2012
WHO: Academy of Art University
WHAT: The Academy of Art University will host the 17th Annual Faculty & Alumni Fine Art Auction, an event that provides the public with an opportunity to directly support the Fine Art Student Scholarship Fund by bidding on paintings, prints, sculptures and jewelry works created by the most distinguished faculty and alumni artists. Fifty percent of proceeds are donated directly to the scholarship fund and are tax deductible; the remaining half of proceeds are disbursed directly to the artists. The Universitys Student Scholarship Fund awards scholarships to the top student artists at the Annual Spring Show. View the entire auction catalog and learn about the artists here: http://www.academyart.edu/auction.
This years Fine Art Auction includes over five-hundred pieces of art created by more than seventy-five artists. The event is sponsored by the Academy of Art University Foundation and hosted by the Academys non-profit galleries.
WHEN:
Reception and Live Auction is Saturday, November 10, 2012

2:00PM : Reception begins, 3:00PM : Live auction begins

Silent Auction ends approximately 30 minutes after close of live auction
Preview of auction is November 8-9, 2012 from 10:00AM 6:00PM (media is welcome)
WHERE:
Academy of Art University Gallery at The Cannery

2801 Leavenworth Street, San Francisco, CA 94133 (map)
For media inquiries and requests for high-resolution images of featured artwork, contact Dana Sornstein (415) 618-6115, dsornstein(at)academyart.edu.
About the Academy of Art University

Academy of Art University, the largest private university of art and design in the United States, is educating students for the art and design jobs of the 21st Century. Established in 1929, the Academy is an output-based higher education model that provides open admissions to all students, but imposes a rigorous curriculum that requires the students to produce a portfolio of work that demonstrates a mastery of their field in order to graduate. Students are taught by a faculty of professionals from the existing marketplace, which provides them with an understanding of what it takes to succeed in todays business environment. The Academys hands-on curriculum produces graduates that possess great artistic and design skills -- and equally as important, the ability to put those talents to work immediately after graduation. As a result, Academy graduates are ready to compete for and win the jobs of the 21st Century in 19 fields: Acting, Advertising, Animation & Visual Effects, Architecture, Art Education, Art History, Fashion, Fine Art, Game Design, Graphic Design, Illustration, Industrial Design, Interior Architecture & Design, Landscape Architecture, Motion Pictures & Television, Multimedia Communications, Music Production & Sound Design for Visual Media, Photography and Web Design & New Media. Academy of Art University is accredited by WASC, NASAD, Council for Interior Design Accreditation (Formerly FIDER), (BFA-IAD), and NAAB (M-ARCH). Visit http://www.academyart.edu for more information.
##
Related Graphic Press Releases