St. Louis Rams Kendall Langford Treats Gateway Tech Student Athletes to Holiday Mentoring Dinner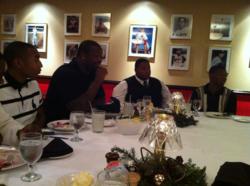 St. Louis, MO (PRWEB) December 05, 2012
Senior members of Gateway Techs football team joined Rams defensive tackle, Kendall Langford for his inaugural First Line of Defense dinner at Mike Shannons Steak & Seafood. St. Louis-based Fun Tyme Limo and Mike Shannons Steak & Seafood partnered with Kendall to give the group a truly outstanding evening.
The festive occasion started with roundtrip transportation in Fun Tymes luxury, stretch SUV for the group of 12. Upon arrival at Shannons, Kendall greeted the group in a private dining room where Executive Chef Nick Zotos had customized a meal that highlighted the best of Shannons extensive menu. He wanted to guarantee that the choices, which included tenderloin filet and seared salmon, provided the group with an authentic knowledge of fine dining.
Kendalls mission was to use the dinner as an opportunity for positive reinforcement mentoring and to encourage the attendees as they prepare to transition from high school. During dinner, the group had the chance to get to know Kendall in a relaxed and candid atmosphere. Though the group discussed many topics, they honed in on football, Kendalls journey to the NFL and life in general.
At the end of the day, Im grateful that I have been blessed and I am able to give back, said Kendall. It was great to hang with these guys- theyre a great group of young men. I just wanted them to know that Im human just like anybody else; it just comes down to hard work and effort. If they always give it their all in life, theyll always come out successful.
Langford, a native of Petersburg, VA is in his first year with the Rams and fourth year in the league. Since entering the NFL, he has made being involved in the community a priority, from distributing turkeys for Thanksgiving in his hometown to his annual free youth camps for high school students.