So Good You Could Like it: Dylan's Candy Bar selects Verso to create mobile electronic accessories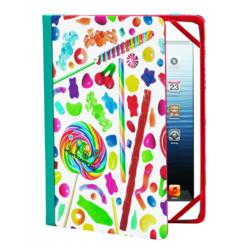 NEWTON, Mass (PRWEB) December 05, 2012
Candy! Were talking candy here! Versothe company that makes cleverly designed electronics accessorieshas partnered with Dylans Candy Bar to create a new line of candy-themed consumer electronic accessoriesincluding covers and matching reading lights. And it only makes sense. People love their electronic devices. People love candy. A match made in heaven.
The one-of-a-kind iconic candy emporium, Dylans Candy Bar, merges the worlds of art, fashion and pop culture with candy. Through the new licensing agreement, Verso will be designing and producing the collection of branded accessories, which will hit Dylans Candy Bar retail stores and the Amazon Kindle Store in early January 2013.
At our store we celebrate the vivid colors and playful style of candy, and it can been seen in all of our candy-inspired apparel, jewelry, stationery and novelty items. said Dylan Lauren, Founder and CEO of Dylans Candy Bar. Working with Verso, were creating stylish, functional and fun tech accessories that allow our customers to bring our store experience with them everywhere they go.
Featuring playful, whimsical patterns of lollypops and gumdrops, the Dylans Candy Bar covers are designed to fit all leading tablets and e-readers. The patent-pending Verso strap system found in every cover keeps tablets and e-readers safe while enhancing every feature. Candy lovers will also enjoy vibrantly colored reading lights, based on the Verso design for the worlds best-selling e-reader light.
Dylans Candy Bar is an amazing brand that transcends candy, and its a great complement to our Verso collection, said Kevin Marinelli, CEO of LightWedge. This is an incredibly fun collaborationcreating a product that really puts a smile on peoples faces and becomes part of their life.
About Dylans Candy Bar

Dylan's Candy Bar was founded in 2001 by Dylan Lauren with a mission to awaken the creative spirit and inner child in everyone. Renown for merging the worlds of art, fashion and pop culture with candy, Dylan's Candy Bar is a pioneer in changing the way we see candy. As the largest state-of-the-art sweets emporium and candy lifestyle brand, Dylan's Candy Bar is not your average "candy store." The modern day candy land is home to over 7,000 candies from around the world, making it the most popular destination for the ultimate sugar rush experience.
Dylan's Candy Bar stores are currently located in New York City, Los Angeles, East Hampton, Houston, and coming soon to Miami as well as several wholesale venues around the country. Dylan's Candy Bar plans to continue expanding to major cosmopolitan cities in the U.S. and worldwide. For more information please visit http://www.DylansCandyBar.com or http://www.facebook.com/DylansCandy.
About Verso

Verso, a registered trademark of LightWedge, creates cleverly designed, uncommonly stylish mobile accessory products that let people get more from the devices they love. The Verso product lines include everything from innovative tablet and eReader covers and accessories to portable speakers and precision-tuned headphones and ear buds. Verso products are available around the world from retail partners including Amazon.com, Best Buy, Barnes & Noble, Staples and Office Max. Visit versostyle.com to see the latest collection of premium mobile accessories.
Verso is a trademark of LightWedge LLC. All other products or companies mentioned are trademarks of their respective owners.
Media Contacts:

Dylans Candy Bar: Julie Chudow at Rogers & Cowan, 212.878.5070 and jchudow(at)rogersandcowan(dot)com

Verso: Bill Devaney, 617.969.2700, Ext. 116 and bdevaney(at)lightwedge(dot)com