SLG game Age of Empire conquers the rankings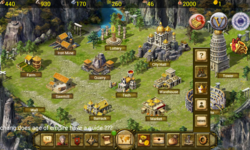 (PRWEB) October 27, 2012
Created by Silent Ocean, Age of Empire is taking Android by storm, already becoming the top grossing app in 17 countries.
The network strategy game transports users to the European Middle Ages, allowing them to create their own Kingdoms and experience the thrill of leading troops into battle. Gamers who start a new game in the next few days will receive a huge bonus upon making their first in-game payment.
The developers of Age of Empire, Silent Ocean, describe the online game as a classic example of incorporating the different aspects of battle, civilization and the struggle for supremacy.
As soon as the game was launched Google Play in September, it became an instant hit. Downloads have continued to grow rapidly, pushing it to become one of the most popular games on the market, with already over 3 million downloads. In order to improve in game communications between users and increase the sense of competition, Age of Empire now supports 8 different languages, including English, Chinese, French and Japanese.
In order to achieve a better gaming experience for their users, the team behind Age of Empire has recently added new content, stripping away the power balance and leaving the user to make the most of the anarchy that is left behind.
The game has a very extensive user base in terms of geographic location, with many American and European based users who quickly fall in love with the graphics, gameplay and plot of the game. The developers are now hoping to take the game to the next level by promoting the game to new users while using the suggestions of current users to improve the overall quality of the game. They hope to release an update next week which will include Halloween-based heroes and equipment. Download the game now and see for yourself: https://play.google.com/store/apps/details?id=com.stac.empire.main