Sharing Movies on the iPhone Gets a Whole Lot Easier with MovieShare from Shedworx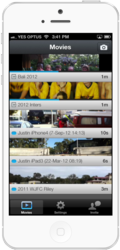 Perth, Western Australia (PRWEB) December 24, 2012
MovieShare makes sharing of movies between iPhones, iPads, iPod Touches and Macs easier than ever.
By moving away from computer-based movie syncing, requiring wires and various system accounts, MovieShare brings simplicity to movie sharing.
MovieShare for the iPhone and iPad supports quick and easy sharing of movies between devices and Macs over Wi-Fi. Any movie can be shared, from movies on your Camera Roll to large movies already in MovieShare.
MovieShare for the Mac manages the entire sharing process. This includes converting movies on the fly and supporting multiple batch transfers to many devices at once.
About Shedworx
Since 2007, Shedworx has been a leading developer of video and photo software for the Mac, iOS and Windows. Shedworx is based in sunny Perth, Western Australia, on the shores of the Indian Ocean and currently produces the worldwide number one video and music converter on the Mac App Store.