Ormsby Auto Offers Comprehensive Discount and Customer Perk System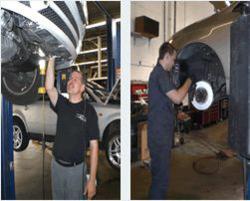 Baltimore, MD (PRWEB) January 22, 2013
Although the major holidays are over, Ormsby Auto of Maryland continues celebrating customer appreciation by extending customer-favorite perks and discounts into the new year. The Rockville auto repair shops customers will be able to take advantage of a no-charge shuttle service, low-cost state inspections and other offers all throughout 2013.
Located in Rockville, MD, Ormsby Auto has been providing domestic and foreign auto repair services for more than 20 years. People come to us not only because we fix anything from broken mirrors to worn timing belts, but also because we always have great deals and treat our customers like family, said Frank Davarya, the owner of Ormsy Auto.
He added that he wanted to continue the specials in the new year and is not planning on getting rid of any customer-favorite perks. One such perk is a no-charge loaner car for the first day of services above $ 750, which allows customers to go on with their daily routine without interruptions.
As an AAA approved repair shop, we also offer 10 percent off to AAA, AARP, military and student clients, as well as 10 percent off any major repair over $ 750, added Davarya. The coupons for these discounts are available on the companys website and must be presented at the time of vehicle drop-off.
Besides generous discounts, Ormsby Auto provides a free 25-point Safety Inspection with every repair order. This inspection covers tires, suspension, brakes, fluids, steering mechanics, seatbelts, lights and other car components. We want to make sure our customers are leaving in a vehicle that is safe to drive, and if that means well have to check things we werent paid for, we dont mind at all, shared Davarya.
He added that Ormsby Auto also doesnt charge for initial diagnostics, which may include computer scan, code retrieval, engine and transmission inspection, as well as uncovering suspension and steering issues.
To further assist the customers, the Rockville auto repair shop provides a shuttle service that customers are free to use to travel to and from work or home if they are located within 5 miles of the service center. This is a great way to get around for anyone who lives nearby but doesnt qualify for a free loaner, pointed out Davarya.
According to the owner, Ormsby Auto also offers the cheapest Maryland state inspections in Montgomery County priced at $ 59 for regular cars and $ 69 for large SUVs and trucks. Weve heard great feedback from our customers regarding our low prices, seasonal discounts and other perks, and we are going to continue doing everything we can to make their auto repair experience as pleasant as possible, shared Davarya.
About Ormsby Auto

Founded in 1991 with a mission to become a high-quality alternative to new car dealers, Ormsby Auto is one of Maryland's top-rated auto repair shops providing auto repair services in Rockville, MD and surrounding areas. Ormsby Auto is an AAA approved and certified by Maryland State Inspection facility (Station # 8047-A) and automotive service center recognized by Consumer Check Book for outstanding performance. For more information, please visit http://www.ormsbyauto.com